Carmel, Indiana - June 22, 2013
Ritron, Inc. reported that CalTrain, a California based passenger railway, has taken delivery of 57 of the U.S.A. made Ritron narrowband RCCR locomotive radios. The order included a mix of one-piece and two-piece models. The contract award was made to Ritron's reseller, Day Wireless, with offices in Washington, Oregon and California.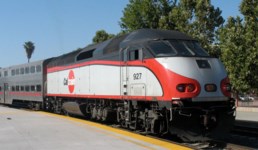 CalTrain, headquartered in San Carlos, CA is a 79 mile California commuter rail line on the San Francisco peninsula, the line extends from San Francisco on the north to Santa Clara Valley (Silicon Valley) and Gilroy on the south.

Clean Cab Radios for Railroads
Learn more about Ritron's locomotive clean cab radios for freight and passenger railroads.

Related Topics: Railroad Radios, Radio and Wireless Solutions for Railroads, Two Way Radios, Locomotive Radios, Clean Cab Radios, Wireless Technology Solutions