Custom Labeling for the Ritron Quick Assist® Shopper Call Button Speaks To Many Applications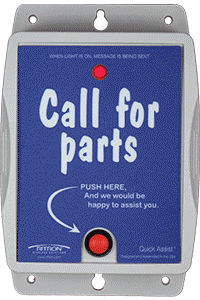 In addition to our popular and standard easy to read "How can we help?" text on the label of the Quick Assist® Shopper Call Button, our customers have asked if the label can be customized to match their brand standards, attract attention, and be specific to the call button location.
Yes we can! Color, language, text, font, and imagery are only limited by your creativity and imagination. Here are a few examples to spur some thought - be sure to contact your account manager to discuss further.
Related Topics: Radio and Wireless Solutions for Retail, Customer Service-Call Button, Two Way Radios, Radio and Wireless Solutions for Hospitals, Wireless Technology Solutions, Transmitters