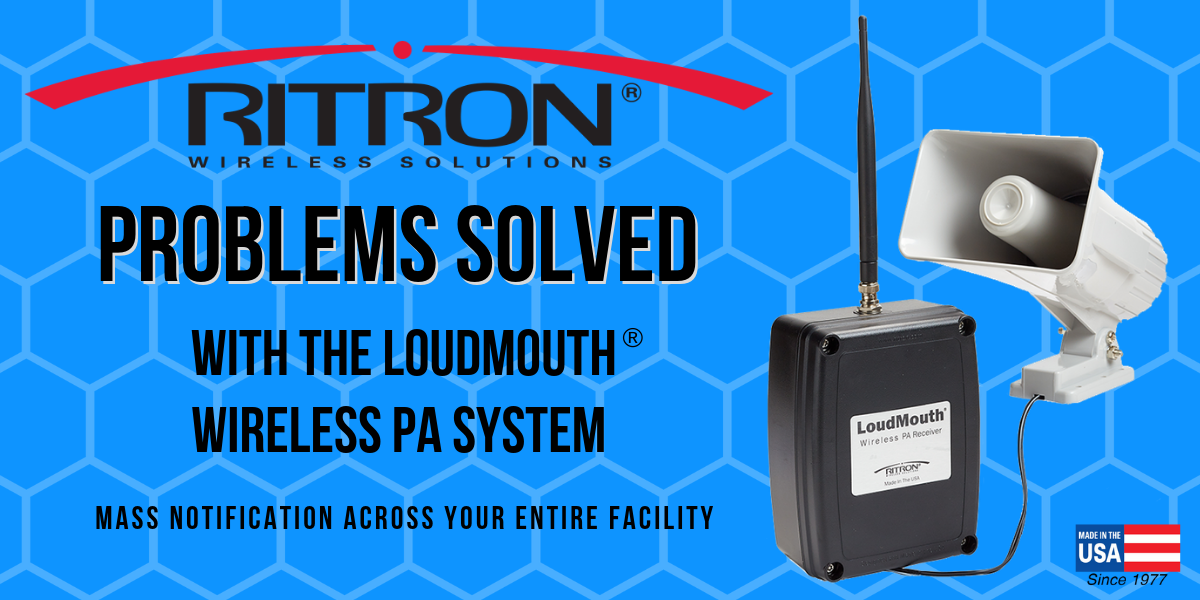 Problems Solved with a Wireless PA System
Did you know that there is a much more cost effective and flexible method for public address and mass notification than a traditional hard wired PA system? You just found it! A Wireless PA System from Ritron - we call our system the LoudMouth® - can solve many problems across your physical plant.
The LoudMouth Wireless PA is Flexible
Coverage: Is your current wired PA system limited to certain areas of your physical plant? We have heard from customers that have expanded their facility and are now using the LoudMouth to extend notification coverage to the newly added areas. A repeater may also be introduced into the system to extend coverage across buildings or outdoor areas.
Zoning: Your legacy hard-wired PA system may not have the capability to localize and segment distinct areas of your business. With the LoudMouth, you may cost-effectively pinpoint isolated locations across your facility to deliver relevant public address notifications.
Adding Capacity: Adding capacity to your current PA system involves running new wiring, potential disruption of business, and of course added cost. Extending coverage with our LoudMouth Wireless PA System is a simple as finding the ideal location for the horn speakers and the receiver, then programming your radios to the proper frequency, and completing the install.
Access to Paging: With a wired system, you're often limited to fixed or a single point of access. With the LoudMouth, you originate your message from an authorized two-way radio - either from a base station or portable radio - providing you the flexibility to be mobile when addressing the PA.
Outdoor Coverage: Looking to extend your system to parking areas or outdoor areas of your campus? Extend your system by adding a LoudMouth Wireless PA System using the optional weatherproof housing.
Pre-Announcement Visual Indicator: Perhaps your application is in a loud environment where a visual indication is needed prior to the announcement. Accomplish just that by adding a strobe light to the LoudMouth. The light activates prior to the message, alerting workers and staff of the incoming message.
The LoudMouth Wireless PA is Cost Effective
Use Your Existing 2-Way Radio Network: There is no need to go to the great expense of replacing or upgrading your wired PA system when you can use your existing 2-way radio network programmed to the LoudMouth Wireless PA.
Cost-Prohibitive to Replace a Legacy Wired System: Have you considered replacing your old or non-working wired public address system lately? Customers choosing a wireless option find the cost to be much more budget-friendly!
Maintenance Costs: When problems occur with a hard-wired system, examining the labyrinth of wires can be expensive. A wireless system is much simpler to troubleshoot, as there are no wires that may fray or may be chewed on by critters over time.
Interested in purchasing the LoudMouth Wireless PA System from Ritron?
Send us an email at sales_info@ritron.com or call us at 800.872.1872 and we'll connect you with a trusted partner.
Related Topics: Wireless PA, Wireless Intercom, Wireless Technology Solutions, Radio and Wireless Solutions for Colleges, Radio and Wireless Solutions for Golf Courses, Radio and Wireless Solutions for Hospitals