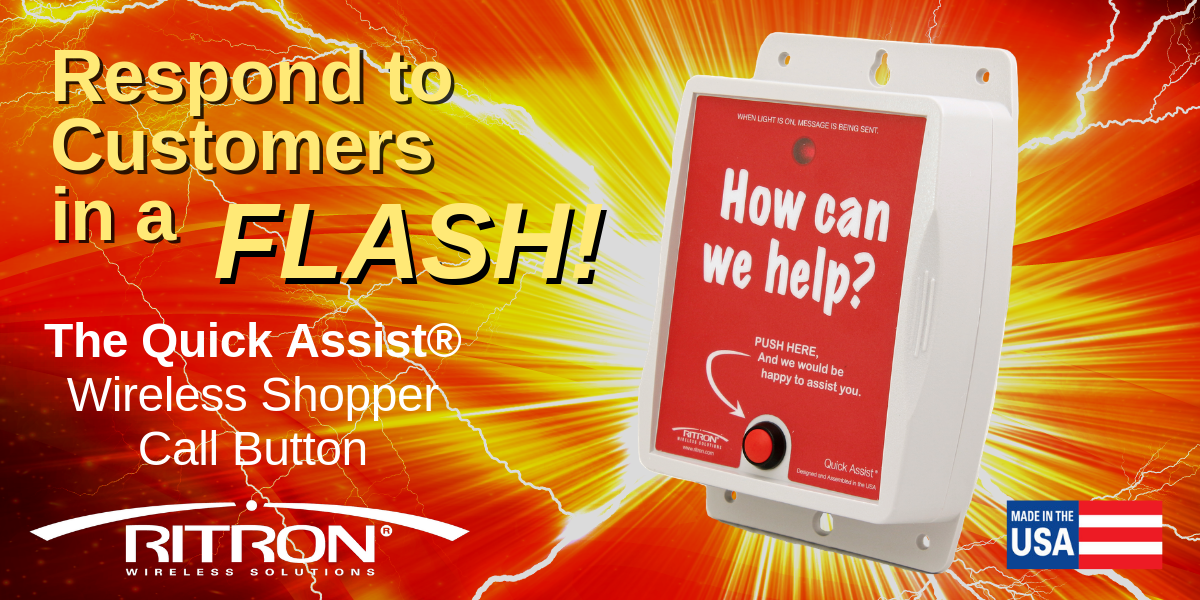 Respond To Customers in a Flash! with the Ritron Quick Assist® Shopper Call Button
Ritron is broadening the reach of the Quick Assist® with added promotion to audiences including loss prevention professionals and retail professionals via the National Retail Federation. Ritron is exhibiting at the NRF Protect 2019 Conference in Anaheim, California June 11-13, 2019 featuring the Quick Assist Shopper Call Button with the theme, "Respond To Customers in a Flash!"
(NRF PROTECT is where more than 2,500 retail security professionals go to learn from industry leaders, gain real-world knowledge and explore new products. It is the single place where loss prevention and cybersecurity experts unite to share insights and strategies vital to all.)
We have chosen the theme "Respond To Customers in a Flash!" to gain the attention of not only those attending the show, but also to promote to retail professionals, radios dealers and resellers that enabling customers with a way to request assistance in a manner they control is accomplished with the Ritron Quick Assist.
Loss prevention and retail professionals attending the show will be drawn to the bright colors that differentiate the Ritron booth from others on the show floor where they'll be able to experience the Quick Assist.
From our earlier coverage on this topic, you know the major benefits the Ritron Quick Assist® Shopper Call Button brings to the retail industry:
Prevents Loss - allows retailers to be confident that sales levels will not decrease for high value items displayed in a locked display case or behind a non-staffed counter.
Adds Customer Satisfaction - when an interested customer presses a simple button to request assistance, radio equipped store staff are notified instantly to fast response.
As we ramp up our marketing to loss prevention professionals, be sure as a radio equipment dealer or reseller to focus on the loss prevention audience when targeting sales opportunities. For resources related to the Quick Assist Shopper Call Button, visit www.ritron.com/quickassist.
Ritron Quick Assist® Wireless Shopper Callbox Information and Specifications:
Did You Know?
All Ritron products are field programmable. Find user manuals with complete instructions here, and for PC programmable products, find software information here.
How To Purchase
Purchase Ritron products through our network of authorized reseller partners across the United States. Send us an email at sales_info@ritron.com or call us at 800.872.1872 and we'll connect you with a trusted partner.
How do I find more information?
Related Topics: Customer Service-Call Button, Two Way Radios, Radio and Wireless Solutions for Hospitals, Radio and Wireless Solutions for Retail, Transmitters, Wireless Technology Solutions