Ritron, Inc. Introduces Radio-To-Intercom Bridge
Radio-To-Intercom Bridge Receiver Keeps Schools Safer and More Efficient
February 13, 2019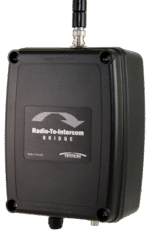 Carmel, Indiana – Two-way radio designer and manufacturer, Ritron, Inc. introduced the Radio-To-Intercom Bridge, a radio receiver uniquely designed to interface to any existing wired intercom system, thus providing authorized 2-way radios access to the wired Public Address Intercom system. Using the Radio-To-Intercom Bridge, properly equipped personnel can now make intercom announcements instantly using their portable 2-way radio, from anywhere in the school.
Every school system wants to keep children and staff safe from threats and to eliminate weaknesses that surface when assessing vulnerabilities. The romantic notion that the intercom system is only being used to convey positive messages has been abruptly changed by the realities of today - threats to the physical safety of our children while at school. The Radio-To-Intercom Bridge connected to the school intercom system is the ideal tool to leverage and dramatically increase the speed of communication and facilitate actions in case of emergencies.
Ritron offers an Analog and a DMR Digital model of the Radio-To-Intercom Bridge. View the video on the impact of the Radio-To-Intercom Bridge here. Please email ritron@ritron.com or call 800-872-1872 for additional information.
ABOUT RITRON
Founded in 1977, Ritron, Inc., is a U.S. company specializing in the design and manufacture of RF wireless voice and data communication products. It offers wireless solutions for commercial, industrial, military, OEM and integrator markets. For more information call 800-872-1872 or visit www.ritron.com.
For More Information contact:
Ritron, Inc.
Marty Bird
(800) 872-1872
ritron@ritron.com