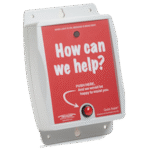 The Ritron Quick Assist® Shopper Call Button instantly notifies store associates when customers want merchandise from locked cases with a simple, stand-alone, battery-powered, wireless solution. Does not use Wi-Fi or IT network interface. Talks directly to your existing VHF or UHF two-way radios.
Whether you have one storefront or a National Chain of stores, the Ritron Quick Assist offers:
Over 20,000 Units in Service!
Improved MerchandiseProtection While Improving Customer Experience
Prevents Merchandise Loss & Shrink
No Wi-Fi or Network Connections Needed
No Added Infrastructure Required
Uses Commercial-grade 2-Way Radio Technology
Talks Directly to Existing VHF or UHF Two-Way Radios
No subscription or residual cell, network, or App fees
Battery-powered for up to 10,000 transmissions
Easily Deployed and Installed
Increases Sales of Locked Merchandise
Creates Operational Efficiencies & Employee Productivity
Connects Ready-To-Buy Shoppers with Sales Associates
Designed and Manufactured in America