Ritron, Inc. to Exhibit at NRF Protect 2019 Conference in Booth #349
Ritron to promote Loss Prevention and Customer Satisfaction via the Quick Assist® Shopper Call Button - Respond To Customers in a Flash!
April 11, 2019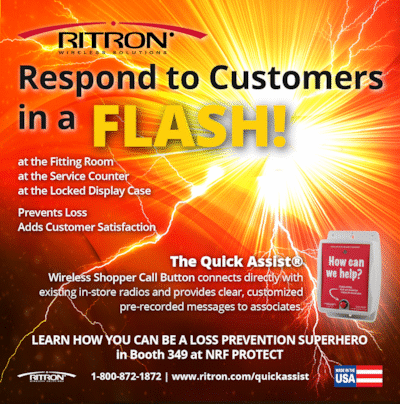 Carmel, Indiana – Ritron to Exhibit and Promote Shopper Call Button Quick Assist® at the NRF Protect 2019 Conference June 11-13, 2019. Respond To Customers in a Flash!
Ritron, Inc., designer and manufacturer of industrial grade wireless telemetry and voice communication equipment, will participate as an exhibitor at the NRF PROTECT 2019, the premier retail loss prevention event, in booth #349. The event will take place June 11-13, 2019 at the Anaheim Convention Center in Anaheim, California. Ritron is presenting their Quick Assist® Shopper Call Button radio transmitter to the retail industry. See more at https://www.ritron.com/quickassist.
NRF PROTECT is where more than 2,500 retail security professionals go to learn from industry leaders, gain real-world knowledge and explore new products. It is the single place where loss prevention and cybersecurity experts unite to share insights and strategies vital to all.
The Ritron booth #349 features their Quick Assist® Shopper Call Button, a radio transmitter that provides loss prevention and customer satisfaction benefits to retailers. The Quick Assist® Wireless Shopper Call Button connects directly with existing in-store radios and provides clear, customized pre-recorded messages to associates. It provides a low-cost, fast and efficient way to boost customer service, control costs and improve employee productivity. With the Quick Assist, customers and staff simply push a button when they need assistance. The Quick Assist is compatible with existing store 2-way radios and talks directly to radio-equipped personnel. It does not require any additional wireless infrastructure for operation and is the ideal solution for any business wanting to maximize loss prevention, customer satisfaction, product sales, and employee productivity.
Stay connected with Ritron @RitronWireless on Twitter and Facebook and be sure to follow our LinkedIn company page https://www.linkedin.com/company/ritron/ .
For additional information on NRF PROTECT and to register for the event, visit https://nrfprotect.nrf.com. Stay connected with @NRFPROTECT on Twitter and Facebook and be sure to follow their LinkedIn company page.
Please email ritron@ritron.com or call 800-872-1872 for additional information.
ABOUT RITRON
Founded in 1977, Ritron, Inc., is a U.S. company specializing in the design and manufacture of RF wireless voice and data communication products. It offers wireless solutions for commercial, industrial, military, OEM and integrator markets. For more information call 800-872-1872 or visit www.ritron.com.
For More Information contact:
Ritron, Inc.
Marty Bird
(800) 872-1872
ritron@ritron.com