Keep Your Facility Safe: Industrial-Grade, Wireless 2-Way Voice Intercom Also Allows Remote Gate Control
XT Series GateGuard Wireless Intercom and Access Control System
August 30, 2018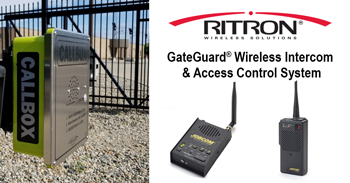 Carmel, Indiana – Ritron Inc., a US designer and manufacturer of industrial grade wireless communication equipment, announced the availability of the XT Series GateGuard® Wireless Intercom and Access Control System.
The system provides reliable, long-range (up to 1-mile, line-of-sight), 2-way voice communication with visitors at gated entry points. The result is a more secure facility without compromising your ability to communicate. This wireless intercom system eliminates the costly trenching and maintenance associated with wired systems. The rugged, industrial-grade callbox is weather-proof, tamper resistant, and includes a built-in relay to allow for remote gate control.
The system includes an XT Series callbox with built-in relay, a companion portable 2-way radio, and a desk-top base station radio. The system is available in either the VHF or UHF license-required frequency band or in a license-free, VHF MURS model. This system is built specifically for commercial and industrial applications like treatment plants, factories, warehousing, schools, and healthcare facilities with thousands currently in service. The system is designed and manufactured in the USA.
For additional information visit www.ritron.com, send email to ritron@ritron.com, or call toll free 1-800-872-1872.
Visit our product detail page for more information on the XT Series GateGuard® Wireless Intercom and Access Control System.
About Ritron, Inc. - Founded in 1977, Ritron, Inc., is a U.S. company specializing in the design and manufacture of RF wireless voice and data communication products. It offers wireless solutions for commercial, industrial, military, OEM and integrator markets. For more information call 800-872-1872 or visit www.ritron.com.
For More Information contact:
Ritron, Inc.
Marty Bird
(800) 872-1872
ritron@ritron.com