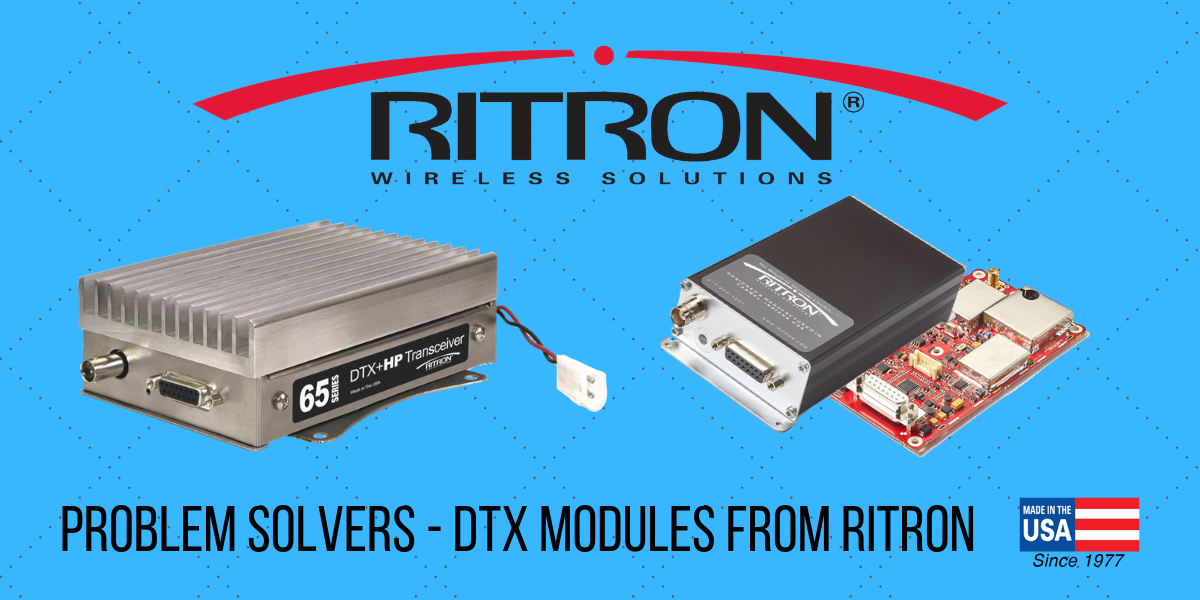 Problem Solving with Ritron DTX Transceiver Modules and DTXM Radio Modems
What are some typical problems that can be overcome by using a Ritron data radio? Our DTX Transceiver Modules and DTXM Radio Modems carry features that benefit a variety of industries and applications.
Fast TX/RX Attack Times
Ritron DTX Transceiver Modules and DTXM Radio Modems feature fast TX/RX attack times. What does this mean and why is it important? The TX/RX attack time is defined as the time needed for a receiver or transmitter to respond to an incoming signal. This is critical when your equipment is polling for data at a high rate and depends on fast response times.
For example, consider a typical polling application where a master unit must talk to a number of other units in sequence. Most often, being able to get responses from as many polled units as fast as possible is advantageous. Think of an application where a large number of devices must be quickly communicated with on a regular basis, such as in the gas and oil industry where the status of wells must be known or whose operation must be controlled.
Compact Design
Ritron data radios feature a compact design. When used without the external case, the single board design allows for flexible mounting options in OEM applications. The back side of the circuit board also functions as a shield, keeping external interference to a minimum. The one sided, single board design also allows for a more efficient manufacturing process, resulting in lower cost to the marketplace.
For illustration purposes, think of any application where the finished product is size-constrained like handheld data/telemetry devices or even railroad end-of-train (EOT) devices.
High Performance in Congested Frequency Environments
As a result of the FCC order to migrate from wideband (25 kHz bandwidth) to narrowband (12.5 kHz bandwidth), the spacing between frequencies has tightened up significantly. This fact increases the opportunity for channel interference, especially in cities with dense populations using radio frequencies to communicate data and voice. Within this limited and precious commodity that is the regulated frequency spectrum, data radios from Ritron can be depended on to perform.
For more information, please see the DTX Modules Product Information page.
Interested in purchasing DTX modules from Ritron?
Send us an email at sales_info@ritron.com or call us at 800.872.1872 and we'll connect you with a trusted partner.
DTX Modules Information and Specifications:
How do I find more information?
Related Topics: Radio Telemetry, Wireless Technology Solutions, Transmitters