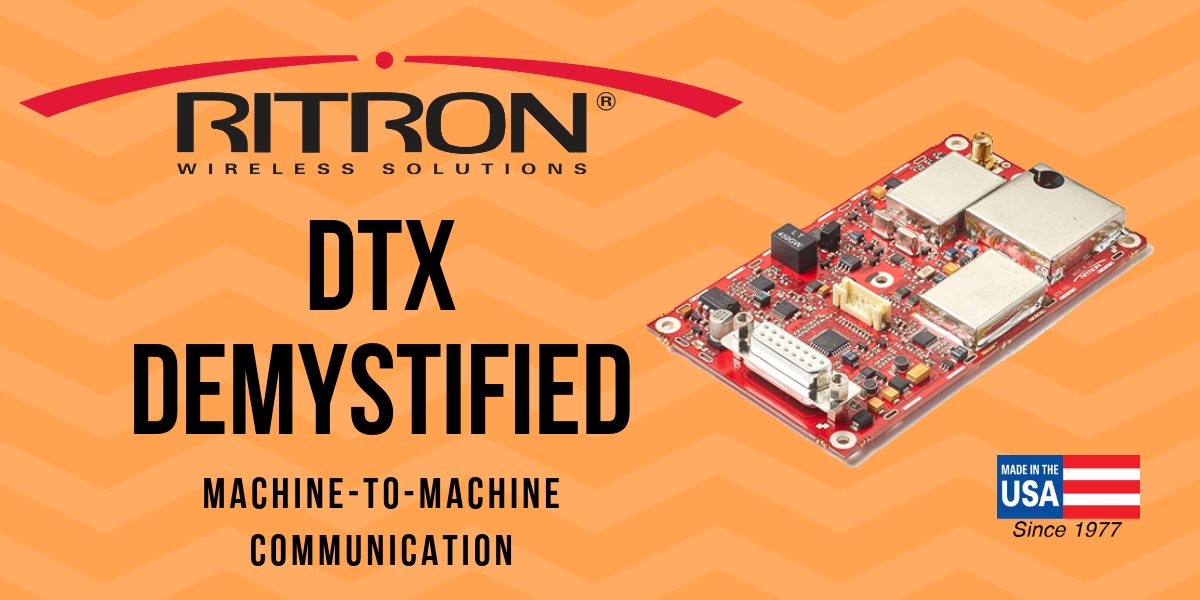 Using Radio to Transmit and Receive Data - Ritron DTX Transceiver Modules and DTXM Radio Modems
Did you know that using radio frequencies to communicate is not limited to just voice? Of course you did! Most are familiar with the traditional point-to-point voice communication using two-way voice radios, callboxes, base stations, and the like. What's new to me (and might be a review or refresher to you) is the huge market for transmitting and receiving data using the radio spectrum. Let's break it down.
Communicating Data Over Radio
In order to transmit data via a radio link, the data, which is typically presented to the radio in a digital format (i.e. 1's and 0's), has to be converted to an analog, voice-like signal. This process is reversed on the receive end. The circuitry that performs this conversion is called a modem. The modem functionality can either be inside the data radio itself (DTXM radio modems) or external (DTX transceiver modules).
Data Over Radio Applications
To say the least, radio is a very useful method to communicate data from one device to another, especially over long distances, or where physical wiring is not feasible. Data over radio can be used by simple and complex machines to open and close gates, inform other machines of temperature, pressure, water levels, distance, speed, voltage change, and a multitude of other conditions in applications that are now very common and ever-present.
Ritron OEM Modules for Data and Radio Modems
It is within this context that Ritron supplies the market with a variety of transceiver modules that can be used to carry data. In general, for those customers who have a modem already designed, the DTX Series of Transceiver Modules are the choice. These modules are basically analog, voice transceivers that have been optimized for the type of voice-like signals that an external modem requires. This allows customers to develop and optimize their own modem protocol for their specific application. For those who want to work with raw data on each end of the link, the DTXM Series of radio modems are the products of choice since the modem functionality is internal to the product.
Ritron Radio Modules are the Wireless Connection and are One Piece of a Larger Whole
Generally, these modules are intended to be a part of a more comprehensive system and serve their specific purpose as a specialized wireless communication device. The DTX family of radio modules are supplied to original equipment manufacturers (OEMs) and integrators (companies that source and supply components from other manufacturers to produce equipment or complete a larger project). Ritron's DTX and DTXM modules are designed to be precision instruments to permit integration into systems demanding the utmost in RF performance.
In next week's article, I'll explore applications that use specific models in our line of DTX radio modules to help bring to light the daily problem solving benefits these products handle behind the scenes across many industries.
For more information, please see the DTX Modules Product Information page.
Interested in purchasing DTX modules from Ritron?
Send us an email at sales_info@ritron.com or call us at 800.872.1872.
DTX Modules Information and Specifications:
How do I find more information?
Related Topics: Radio Telemetry, Wireless Technology Solutions, Transmitters