Why The Base Station Works For Warehousing, Transportation, and Logistics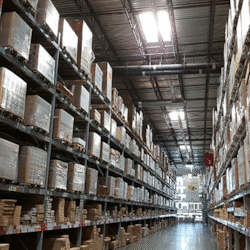 The JBS Series JobCom Wireless Intercom / Base Station radio makes perfect sense in a multitude of ways when used in warehousing, transportation, and logistics applications. Think of the following uses and how you or your customers might benefit from implementing these cost effective solutions within an existing radio network.
Remember, the personality of a base station radio is to originate and receive long-range communication from a fixed location, with the benefit of the radio being continuously powered (always on).
Fixed location to portables
An office or construction desk can monitor radio network traffic, and depending on what channels are programmed to talk to certain segments of the network, broadcast instructions or messages to specific groups or all groups.
Fixed location to fixed location
When two or more offices are within radio range, staff can communicate to one another, monitor traffic, and provide instruction to those carrying portable radios.
Office to Dock Manager
Within a warehousing application, staff in the office can alert the manager on the dock to incoming shipments, important announcements, and relay information from late arriving drivers.
Dock Manager to Forklift Operators
As documented in this customer impact story, operations were made more efficient when base station radios were mounted to forklifts. No longer hampered by lost or damaged portable radios, the always-on fixed location base stations created a mini-network among the forklift operators. Safety was increased since the drivers stayed on the forklifts, and time was saved locating freight since all operators and the dock manager were now wirelessly connected and could communicate effectively.
Gatehouse to Closed Access Point
When the JBS Base Station radio is mounted or placed on a desk in the guardhouse, it can be used to communicate with visitors requesting access at an entry door or at a closed gate. Staff monitoring the base station radio may respond via voice with a code for the visitor to manually open the door, or when combined with our GateGuard® system, can trigger the gate opener to automatically open the gate or door.
Base Station to Loudspeaker
Another great use for a base station! Equip the warehouse or transportation office with a base station to originate announcements via the Ritron LoudMouth® PA system. Useful in loud environments where staff may be wearing hearing protection, a strobe light can be triggered to as an indicator an announcement is forthcoming, allowing time for any hearing protection to be removed prior to the broadcast.
What else?
How have you used a base station radio in a warehouse, transportation, or logistics application? Let me know at mbird@ritron.com and I'll be sure to include it in my next post covering the base station radio.
Video
Check out this quick 3-minute video to learn what a base station is and what it does:
Did You Know?
All Ritron products are field programmable. Find user manuals with complete instructions here, and for PC programmable products, find software information here.
How To Purchase
Purchase Ritron products through our network of authorized reseller partners across the United States. Send us an email at sales_info@ritron.com or call us at 800.872.1872 and we'll connect you with a trusted partner.
How do I find more information?
JBS Base Station Desktop Intercom Radio Information and Specifications
Related Topics: Radio Base Stations, Radio and Wireless Solutions for Hospitals, Two Way Radios, Transmitters, Wireless Technology Solutions