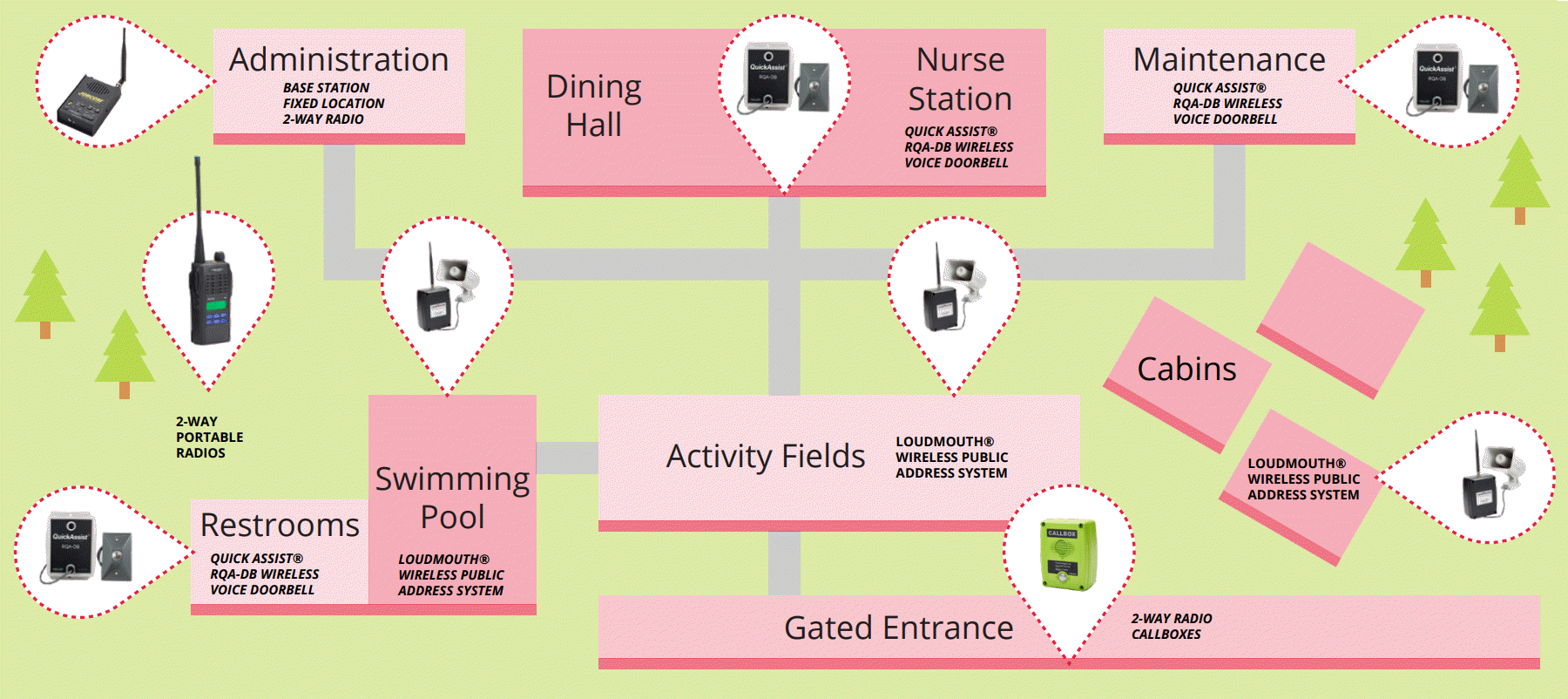 Industry: Summer Camps
Location: Massachusetts
Customer: A summer camp in western Massachusetts
Products: Ritron LoudMouth Wireless PA System
Summary: Michael works at a residential summer camp located in the mountains of Massachusetts. The camp needed to strengthen its mass notification system. The new system needed to have two distinct capabilities.
The new system needed to be easily heard anywhere on the 75-acre camp
Camp staff needed to be able to quickly access and make PA announcements from anywhere on camp grounds.
Then, under Michael's guidance, the camp installed the LoudMouth wireless PA system matched to their portable two-way radios. Now, camp staff can instantly make PA announcements throughout the entire camp, right from their two-way radios, from anywhere on the property. Because LoudMouth receivers are wireless they are easy to locate, even in remote areas of the camp.
THE PROBLEM
Michael is the director of IT at a residential summer camp in western Massachusetts. The camp has operated for over eighty years, hosting children and staff from around the world. Caregivers send their children because of the camp's thrilling activities, the picturesque lakefront location, and the promise of lifelong camp friendships. But as every parent knows, safety is the most important consideration in picking a camp. Staff wear many hats, from activity leaders, to counselors, to lunch hall monitors. But their most important job is sending kids home safe and happy at the end of the summer.
If you work outdoors—particularly with children and animals—you learn to expect the unexpected. Unexpected encounters with wildlife, unfortunate restroom malfunctions, adjusted schedules, and campus security instructions are all givens on almost every day of camp. Dangerous weather is the most common hazard at Michael's camp, with storms blowing into the area with little notice. Michael was looking for a system that camp leadership could use to broadcast PA announcements for sheltering-in-place in the event of storms. After lots of research online, he found Ritron.

THE SOLUTION
After Michael contacted Ritron and learned more about his options from a sales representative, he purchased and installed 14 LoudMouth Wireless PA systems throughout the camp. Now, whenever the camp's leadership needs to make an emergency announcement, they simply switch to the PA system channel on their two-way radios. Leadership already carries two-way radios to communicate with each other, so they adapted easily to the new system. At the first moment of a storm, they can make voice announcements that kids and counselors hear loudly and clearly. Even in the camp's most remote locations, there's no question when to shelter in place. And because Ritron's LoudMouth PA receivers are wireless with horn speakers, they can be installed in otherwise impossible or hard-to-reach places, as long as they have access to power.
Ritron specializes in manufacturing cost-effective wireless solutions that leverage existing customer-owned radio equipment to do more. Michael's camp connected their LoudMouth to their existing fleet of Motorola radios. The LoudMouth receives the signal from the authorized portable radios and broadcasts the message to companion loudspeakers. Because they integrated our systems into the products they already owned, they made a huge improvement in reducing the time needed to make a PA announcement. In the case of an emergency, every second saved is critical. In addition, this increased coverage came with little additional cost.

Some camps may have existing wired PA systems that are in need of an upgrade, rather than just replacing them. If this is your situation, Ritron can bring similar functionality to your PA system using our Radio-to-Intercom bridge receiver. This product allows you to make mass notification announcements right from any two-way radio that's in range of the receiver.
No matter your current situation, our representatives will work with you to find a solution that meets your needs.
CONTACT US TO START SOLVING YOUR PROBLEMS TODAY