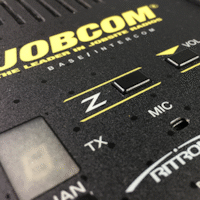 The Ritron fixed location base station radio is industrial grade, high quality, and designed to be used on a desktop or other fixed location where AC power is readily available. Here are the top five features that make this radio attractive and useful for our customers.

1. It's Wireless
Of course it is! With radio communication, you're transmitting and receiving communication wirelessly within the VHF or UHF frequency bands. Unlike other forms of communication, adding a layer of communication to your existing radio network requires no expensive and complicated trenching.

2. AC Powered
The JBS base station radio is designed to live on a desk, or
even be mounted on a forklift
. Since it's always plugged in or wired to AC power, you have no worries about batteries going dead. It's always turned on, monitoring communication on your network.
3. Ten Channels
As you grow your radio network, your dispatch center or main office has the option to communicate directly with the various channels set up on your network. You can even use one of the channels to monitor the weather, and another channel to operate a gate or open a door.

4. Programmable Z Key
The JBS base station radio can send a signal to open a gate or a door with the push of a button. Simply wire your relay to a compatible receiver from Ritron, and you have long-range, wireless control to open and close your gate.

5. Field or PC Programmable
All radios from Ritron are programmable via PC software, or in the field via the program buttons on the circuit board. While factory standard or custom programming covers most scenarios, you may have a elements particular to your specific radio network where custom programming will come in handy.
Programming is covered in the user manual
.
6. Bonus: Long Range!
The JBS base station is so feature-rich, we must not leave out the feature that sets this product apart, and that is its long-range capability. With radio communication, we're not talking feet, we're talking miles depending on physical conditions. We always encourage a site survey to determine range, and if your needs require adding a range-extending repeater, we have you covered. Check out our
analog repeaters here
, and our
NXDN digital repeater here
.
Video
Check out this quick 3-minute video to learn what a base station is and what it does:
Did You Know?
All Ritron products are field programmable. Find user manuals with complete instructions here, and for PC programmable products, find software information here.
How To Purchase
Purchase Ritron products through our network of authorized reseller partners across the United States. Send us an email at sales_info@ritron.com or call us at 800.872.1872 and we'll connect you with a trusted partner.
How do I find more information?
JBS Base Station Desktop Intercom Radio Information and Specifications