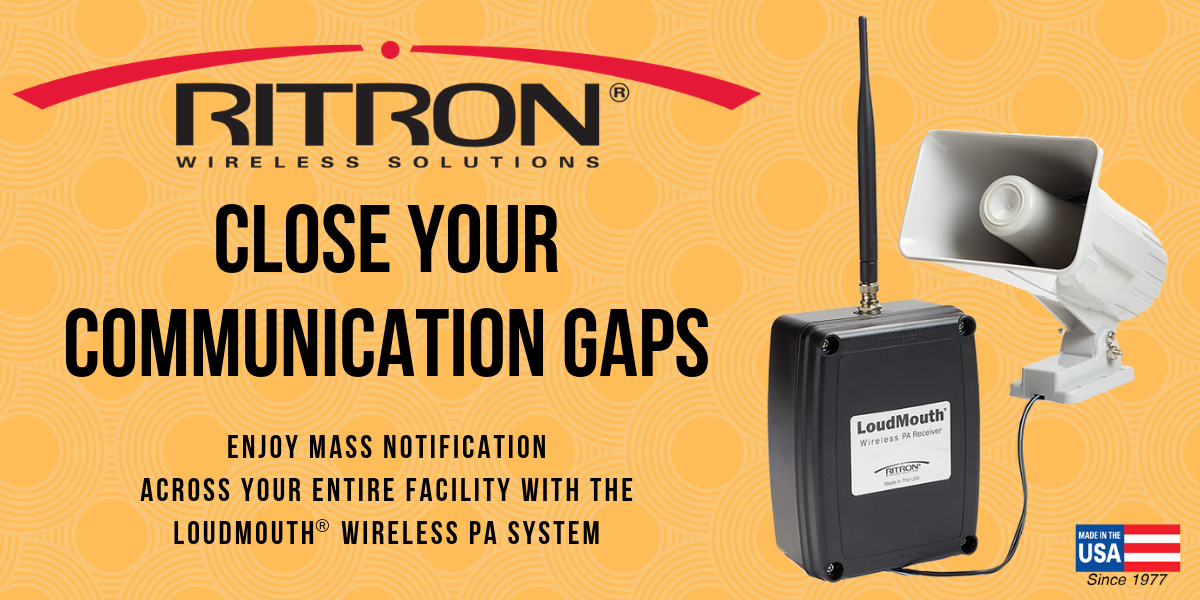 Close Your Communication Gaps with the Ritron LoudMouth® Portable PA System
The LoudMouth® is a radio receiver that allows you to use your portable, base station or mobile 2-way radio to deliver voice messages directly to a PA speaker up to 2 miles away. The receiver and PA speaker is the ideal solution where hard-wired PA installation is simply impossible, too expensive, or temporary.
The LoudMouth receiver and PA speaker has been designed for quick setup so you can start using it right away - making it ideal to close communication gaps around your facility. For example, do you see yourself in any of these scenarios?
The detached school buildings / overflow classrooms need to be included in my mass communications network.
My warehouse is expanding and I didn't budget for additional hard wired PA.
Lumber yard - make announcements to customers, workers, drivers.
Auto dealership car lot - special event announcements to customers.
Athletic fields - mass communication to public attending events. Playgrounds - announcements for drills, emergencies, weather.
Practice fields - communication with marching band, other mass gatherings.
Outdoor concert venues - announcements to the crowd, in parking lots, concession area.
These are just a few of the applications where the portable LoudMouth PA system would be beneficial. Installation is easy and thoroughly documented in the user manual.
When you order the LoudMouth system, you'll receive:
The LoudMouth Receiver with 5W audio amplifier
A Horn Speaker with RCA phono plug and 25 ft. cable
Power cube, Dual band whip antenna with BNC connector, Mounting brackets, and a T-25 Torx security bit.
Optional items you might order: Y adapter allowing for 2 PA speakers; rechargeable backup battery; additional PA speaker.
You'll open up the receiver with the Torx bit, and by following the instructions in the user manual, program the receiver to operate with your existing two-way radio system. You'll need to know your transmit frequency, and decide upon what channel you'd like to use to page the LoudMouth.
Programming
You may choose to program your 2-way radios to use the following paging formats to address the receiver: Quiet Call (CTCSS), Digital Quiet Call (DCS), 2-Tone Paging, DTMF, or Selcall paging.
We strongly recommend using one of the selective signaling formats above and a dedicated channel to prevent unintended transmission of two-way radio voice traffic.
Volume Settings and Speaker Location
Volume settings are critical to the performance of your LoudMouth system.
You'll need to consider the current ambient noise level as well as any obstructions to overcome when determining the best placement for the horn speaker.
The user manual has great instructions on programming the volume level and proper placement techniques.
Mounting
The speaker can be safely mounted to concrete, metal or wood surfaces.
The radio receiver box must be located inside and out of the elements. When using the included whip antenna, find a central location as high up as possible to achieve the best radio coverage.
Radio range can be extended by using an optional, external antenna. Ritron carries the RAM-1545 magnet mount antenna that has a 25 foot cable to allow for optimum location.
Be sure there is a 110VAC power source nearby.
Once the receiver is plugged in, the unit is receiving power and considered "always on." The user manual contains additional options that may pertain to your individual application. Contact Ritron and we'll put you in touch with a qualified reseller that can further address your needs.
What other unique applications can you think of where the LoudMouth would help close a communication gap? Let us know when you contact us at sales_info@ritron.com.
Related Topics: Wireless PA, Wireless Intercom, Wireless Technology Solutions, Radio and Wireless Solutions for Colleges, Radio and Wireless Solutions for Golf Courses, Radio and Wireless Solutions for Hospitals