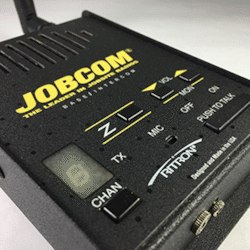 I recently sat down with Mike Pickard, Senior Project Engineer at Ritron to learn more about the history of and the future for the JBS Series JobCom Wireless Intercom / Base Station radio.
Mike was provided the opportunity to head up the product engineering for the JBS Base Station soon after the original idea was realized by Ritron founder Bill Rice almost 20 years ago. "Believe it or not, one of the early uses for this radio was as a base mobile radio to be mounted in a car. It was a reconfigured portable radio inside a metal box with an input for a external microphone and an onboard speaker," Mike recalled. "We soon found out there was much greater interest for a desktop radio."
Mike began the process to create a purpose-built desktop radio, with separate versions designed to operate on UHF, VHF, and VHF MURS business bands. Mike also ensured FCC and Industry Canada approvals were secured before going to market. He updated the original prototype to operate with 10 channels instead of only 2, and ensured the case and components were rugged enough to withstand the intended market: Industry.
"What's kept this radio going is its reputation for holding up under the most taxing circumstances. It's fairly simple, rugged, and mostly used on heavy machinery, in construction, and factory-type industrial applications. For a fixed-location radio, it takes a lot of vibration and knocking around and works reliably under those conditions."
When asked about competing radios, Mike indicated, "Ritron created the market for business users wanting a fixed-location, desktop radio. Others have come and gone, most of which used plastics that just don't survive in the harsh conditions where they're used."
Regarding its future, Mike said, "I see a bright future ahead since our end users and resellers are always coming up with creative and imaginative ways to use this radio. It can serve as a dual purpose device - communicating via voice with your radio network as well as programming the "Z" button to open a gate, for instance. These features make this a very desirable and versatile radio."
Purchase Ritron products through our network of authorized reseller partners across the United States. Send us an email at sales_info@ritron.com or call us at 800.872.1872 and we'll connect you with a trusted partner.