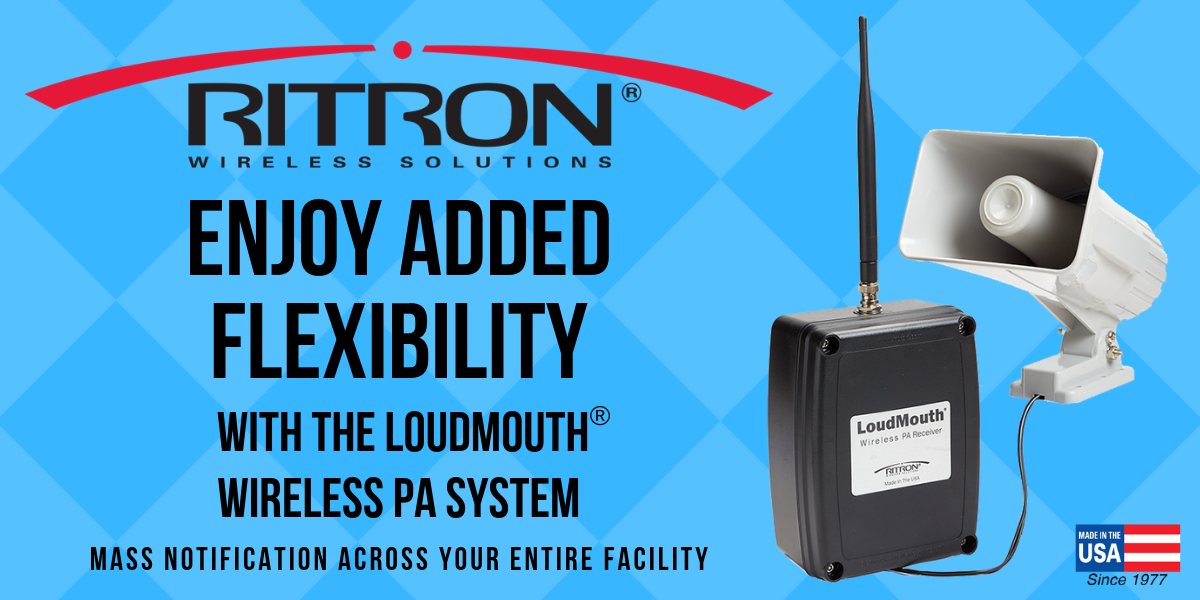 LoudMouth Wireless PA Offers Added Flexibility
The LoudMouth® Wireless PA System was designed with flexible options to meet the needs of your particular installation. Learn more about increasing coverage area, visual alerting, outdoor installation, and increasing radio range below.
Installing two PA speakers with a single LoudMouth receiver
Does your application require covering a large area? With the use of a Y adapter, a single LoudMouth receiver can be used to drive two speakers. Here are some reasons to use a dual-speaker setup:
You have a large area to cover
There may be large obstructions limiting the effective range of a single speaker installation.
There might be a wall separating the two areas you want to cover.
In some cases, the use of 2 speakers (installed back-to-back) powered by a single LoudMouth receiver can allow you to reduce the volume level in a quiet environment:
When ambient noise level is low (like in a hospital), the individual speaker volume can be reduced when using 2 speakers.
Or, when the calling radio is in the same area where the speakers are located, speaker volume must be reduced to prevent feedback.
Using Multiple Receivers and Speakers
One horn speaker can cover up to 7500 square feet. You can cover an even wider range when you use multiple speakers and receivers. The coverage area you'll experience is subject to factors such as ambient noise level, obstructions, and the range of the radio used to address the receiver.
Note: The speaker must be located at least 10 feet above head level. Why? Because the LoudMouth speaker is capable of sound levels that can cause permanent hearing loss. You should never install it in a location where a person could be directly in front of the speaker.
Outdoor Installation
While the horn speaker may be installed outdoors, the receiver unit may only be installed outdoors with the use of a weatherproof fiberglass housing.
The Ritron model LMH-100 is a weatherproof, fiberglass reinforced polyester enclosure designed to house the LoudMouth receiver and antenna.
Speaker and power connections are routed from the bottom of the enclosure through electrical conduit.
Use a Strobe Light for Visual Alerts
When an incoming message is imminent, you may want to trigger a visual alert. This is useful when ambient noise is very high - like on a factory floor. Ritron carries an optional strobe light and a cable assembly which are used to accomplish the visual alerting. External Antenna Radio range can be extended with the use of an external antenna. The antenna can be installed at a higher elevation than is possible with the attached antenna. The Ritron RAM-1545 VHF/UHF magnet-mount antenna has a 25 ft. cable to allow optimum antenna location.
Do you see yourself benefitting from one or more of the features above? Let us know!
Related Topics: Wireless PA, Wireless Intercom, Wireless Technology Solutions, Radio and Wireless Solutions for Colleges, Radio and Wireless Solutions for Golf Courses, Radio and Wireless Solutions for Hospitals, Radio and Wireless Solutions for Construction