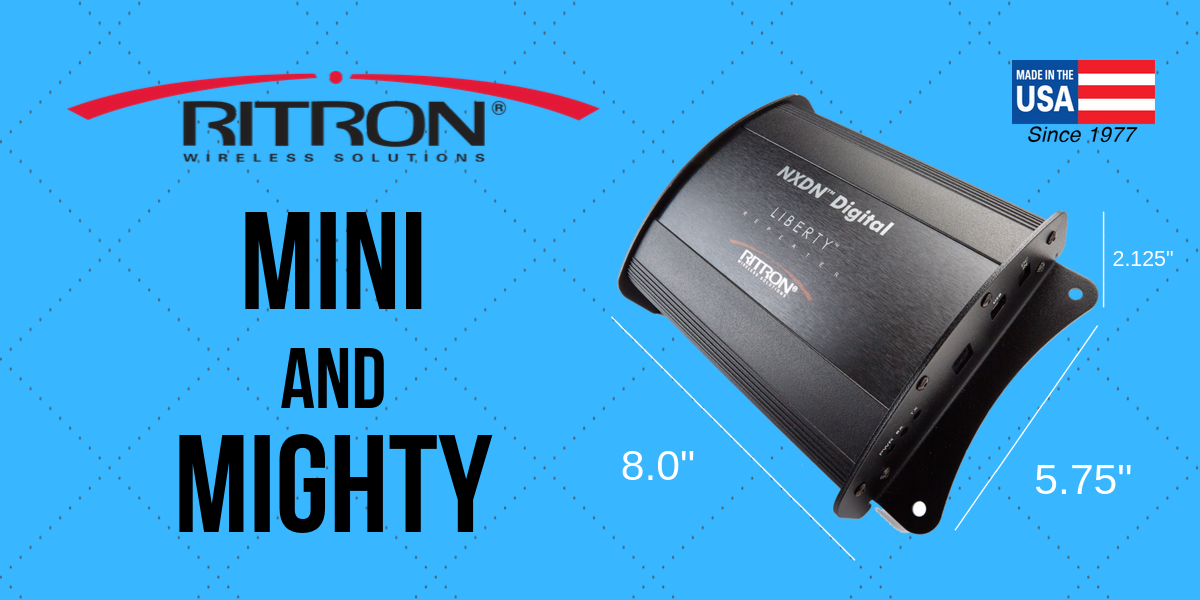 When I first put my hands on the Liberty™ Repeater from Ritron I was amazed at its small footprint. At only 8" wide by 5.75" deep and just over 2" high, along with its stunning good looks this repeater not only extends communication, it turns heads! For those who appreciate RF tech that looks great and performs, check out the deep set of features available in both the Analog and the NXDN™ Digital versions of the UHF Liberty Repeater:
The Housing
Just look at those curves! The durable, extruded aluminum, powder coated housing looks and feels great as it provides excellent heat sinking and physical protection for the RF electronics inside. And the mounting flanges are built-in, making it easy for you to find a suitable mounting location. It's lightweight at just 3.5 pounds.
What's Inside
Integrated Full Duplex Radio and Duplexer w/ "N" Type Connector
Transmit power adjustable from 2 to 10 Watts (NXDN™ Digital Model)
2 or 5 Watt Models Available (Analog)
The Benefits
The Ritron Liberty line of repeaters provides a powerful, cost-effective and rugged on-site solution to extending your radio coverage.
Dead spots at the far reaches of your facility?
Would you like to extend the range of your current radio network to additional buildings on your campus?
Consider the benefits of adding a repeater to your network to solve these common radio coverage issues. Contact us to discuss the best options for you!
Learn More and Find Technical Specifications:
Did You Know?
Find user manuals with complete instructions here, and for PC programmable products, find software information here.
How To Purchase
Purchase Ritron products through our network of authorized reseller partners across the United States. Send us an email at sales_info@ritron.com or call us at 800.872.1872 and we'll connect you with a trusted partner.
How do I find more information?
Related Topics: Repeaters, Transmitters, Transceivers, Wireless Technology Solutions, Construction Two Way Radios