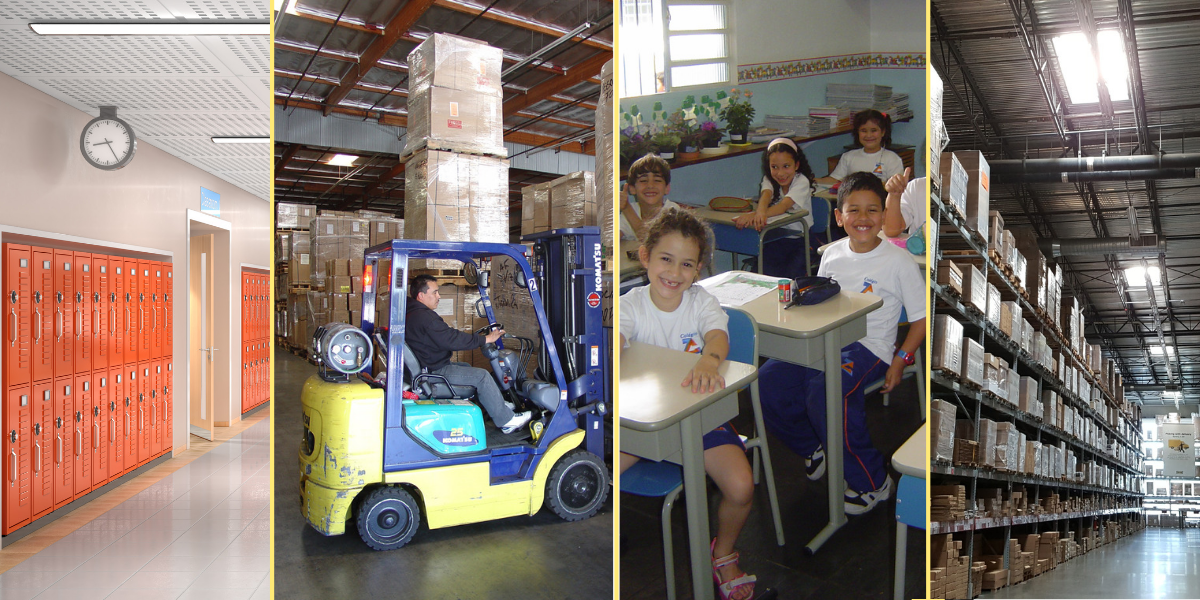 Question: Where does it make sense to install a Radio-To-Intercom Bridge™?
Answer: Schools, Colleges, Universities, Hospitals, Factories, Warehouses, Distribution Centers, Church Campuses, any facility that has an existing PA system, or one where a PA system is being installed.
Here's why:
The Radio-To-Intercom Bridge extends the effectiveness of both the PA System and an existing two-way radio network.
Legacy PA systems are often addressed from a single location - most likely an admin office, or dispatch office, or a school's front office.
Some PA systems include the ability to use the phone system to mass communicate over in-phone speakers along with ceiling and wall mounted speakers.
Mobility
Neither scenario above addresses a leading benefit of installing a Radio-To-Intercom Bridge radio receiver - and that's mobility. This radio receiver pairs your two-way radios with your PA system, and connects to the PA with an RCA cable or by using a 600Ω, balanced MIC input. Using your existing radio network, authorized staff with radios programmed to work with the receiver may be anywhere within range of the receiver and confidently communicate over the PA system. These distances can be measured in miles, not feet!
Flexibility
Think of the flexibility - security personnel, safety officers, or a school principal can be in a parking lot, on a playground, deep within the campus or facility grounds and simply use the two-way radio on their hip to communicate over the existing PA system. This ability shaves precious seconds off notification and response times in case of an emergency. For everyday announcements, communication can originate from anywhere within radio range - one does not have to be in the front office to communicate to the masses.
Ready to learn more? Go to www.ritron.com/bridge to review all the available tools to help promote and market the Radio-To-Intercom Bridge.
Ritron Radio-To-Intercom Bridge™ Information and Specifications:
Did You Know?
All Ritron products are field programmable. Find user manuals with complete instructions here, and for PC programmable products, find software information here.
How To Purchase
Purchase Ritron products through our network of authorized reseller partners across the United States. Send us an email at sales_info@ritron.com or call us at 800.872.1872 and we'll connect you with a trusted partner.
How do I find more information?
Related Topics: Radio and Wireless Solutions for Schools, Radio and Wireless Solutions for Schools, Radio and Wireless Solutions for Hospitals, Radio and Wireless Solutions for Hospitals, Wireless Technology Solutions, Wireless Technology Solutions, Radio and Wireless Solutions for Colleges, Radio and Wireless Solutions for Colleges, Emergency Call Boxes for Campus Security, Emergency Call Boxes for Campus Security