Product Quick Links:
Custom Labeling
Retail Store Managers
Loss Prevention
Increase Top Line Sales and Store Profit
The Quick Assist® wireless shopper call button provides a low-cost, fast and efficient way to boost customer service, control costs and improve employee productivity. With the Quick Assist, customers simply push a button when they need assistance. Your two-way radio-equipped personnel are immediately alerted with a customized voice message. The Quick Assist is compatible with your existing store 2-way radios and talks directly to radio-equipped personnel. It does not require any additional wireless infrastructure (e.g. no WiFi) for operation and is the ideal solution for any business wanting to maximize customer satisfaction, product sales, and employee productivity.

Places to use the Quick Assist Call Button . . .
Retail: Learn More About The Retail Application
High Value or High Theft Merchandise in Locked Cases
Site-To-Store Pick-Up Areas (Buy Online, Pick-up In Store BOPIS)
Areas that are not staffed full-time: Paint Counters, Material Cutting Stations, Automotive
Fitting Rooms
Question-Intensive Merchandise Areas
Seasonal or Outdoor Departments - Lumber, Garden Center, Patio Funiture, LP Tanks
Heavy or Out-of-Reach Merchandise Areas
Will Call Counters
Manufacturing
Part Cages
Assembly lines to call for parts or notify of machine failure
First Aid Stations or Eye-Wash Stations
Closed or Secure area
Healthcare
Nurse Call for Out Patience or Specialty Offices
Panic Buttons at Cocierge's or Information Desk
Valet Parking
Secured areas, loading docks
Other Applications
Car Washes - vacuum stations, vending machines
Amusement Parks
Indoor Family Dining & Entertainment
Travel Centers, Truck Stops, Convenience Stores
Regulatory Approvals
VHF MURS, License-Exempt, FCC Part 95
VHF/UHF, License-Required, FCC Part 90
VHF/UHF, License-Required, ISED Industry Canada
UHF-GMRS, License-Exempt, ISED Industry Canada
UHF ETSI, For Europe
Custom Labeling for the Ritron Quick Assist® Shopper Call Button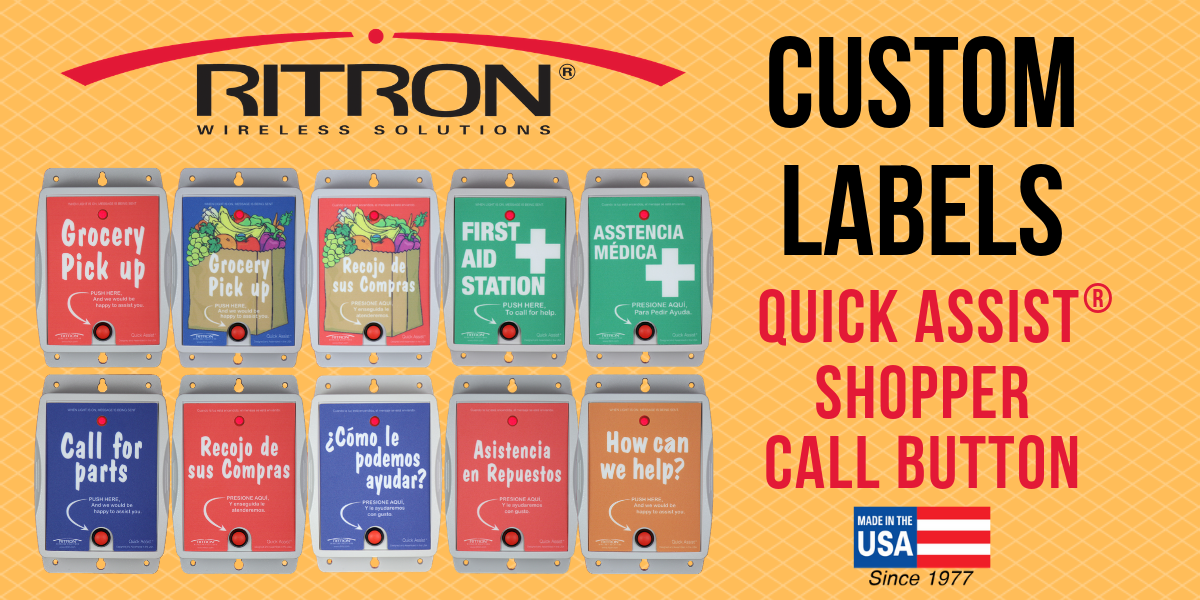 Custom Labeling for the Ritron Quick Assist® Shopper Call Button Speaks To Many Applications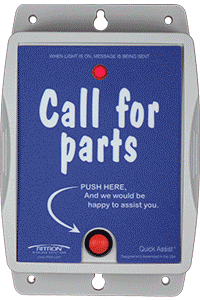 In addition to our popular and standard easy to read "How can we help?" text on the label of the Quick Assist® Shopper Call Button, our customers have asked if the label can be customized to match their brand standards, attract attention, and be specific to the call button location.
Yes we can! Color, language, text, font, and imagery are only limited by your creativity and imagination. Here are a few examples to spur some thought - be sure to contact your account manager to discuss further.
Did You Know?
All Ritron products are field programmable. Find user manuals with complete instructions here, and for PC programmable products.
How To Purchase
Purchase Ritron products through our network of authorized reseller partners across the United States. Send us an email at sales_info@ritron.com or call us at 800.872.1872 and we'll connect you with a trusted partner.