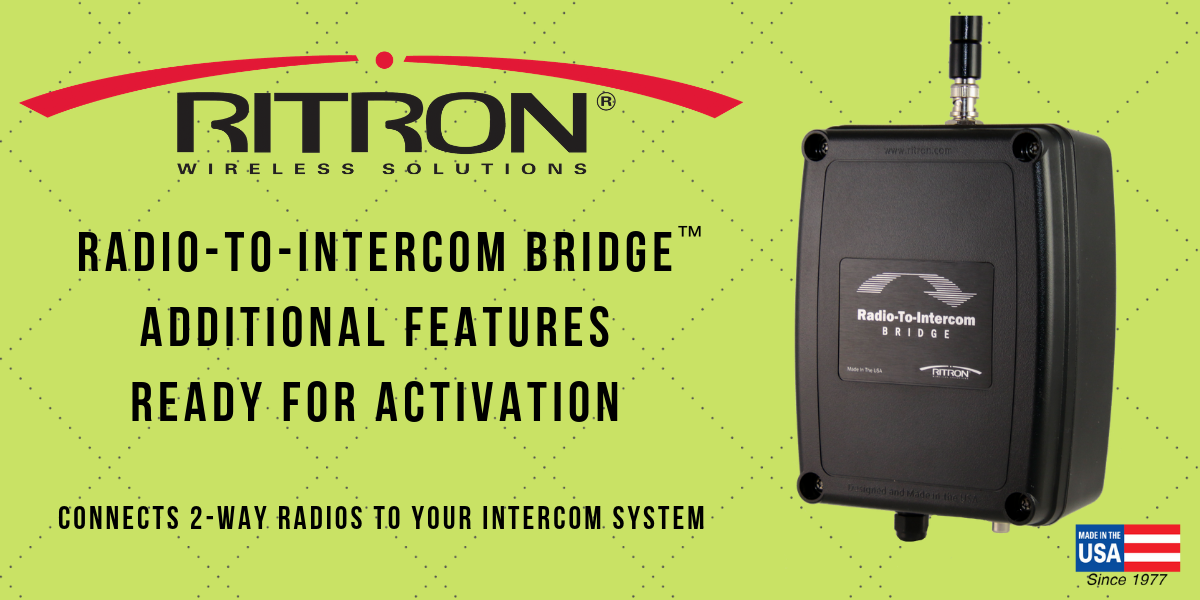 Radio-To-Intercom Bridge™ Additional Features Ready For Activation
Beyond its main operation functioning to pass audio from your authorized two-way radio through to your existing PA system, the Radio-To-Intercom Bridge is designed with additional features described below. These features increase the receiver's flexibility, usefulness, and value. Activated within programming, your particular application will help you decide those features that are of most value to you.
Priority Relay / Interrupt Mode
For PA systems that support an override, priority, or emergency switch closure, the Radio-To-Intercom Bridge can provide that switch closure upon receiving a valid signal. This ensures the message coming from your two-way radios takes priority over what may be playing on the PA system.
Alert The Security Team: Add a Strobe Light
There are multiple ways to connect a strobe light to the Radio-To-Intercom Bridge receiver. If the strobe light is installed near the security office, the strobe could serve to alert the security team with a visual indication that the receiver has received an input and a message is about to be broadcast over the PA system.
Pre-Announce Tone
Enable this feature and a short tone will sound on your speakers prior to the broadcast to notify your audience that a message is forthcoming.
Delay Message Playback Feature / Record and Play
Also known as "record and play" this feature only starts playback of the incoming message when the transmission is completed. This is useful to avoid feedback if a loudspeaker is nearby the originator of the two-way radio transmission. Recorded messages are limited to a maximum of 20 seconds.
Repeat Message Playback Feature
When record and play operation is enabled, the recorded message can be repeated for the number of times set in programming. Three seconds separates each repeated message.
Switch Input w/ pre-recorded message
Use the white and brown wires on the 9-conductor interface cable to connect to any switch input and a pre-recorded voice message (up to 6 seconds long) will play any time a change in the switch input is detected. Practical uses include: A door switch on an emergency exit, a loading dock overhead door, a door on a secured computer room, etc. A push button switch may also be added that serves the same function, and upon the button push a pre-recorded message plays over all the speakers in the wired PA system.
How To Access These Features
You may access these advanced settings within the programmer (either the PC programmer or the field programmer) and read much more detail in the user manual.
Ritron Radio-To-Intercom Bridge™ Information and Specifications:
Did You Know?
All Ritron products are field programmable. Find user manuals with complete instructions here, and for PC programmable products, find software information here.
How To Purchase
Purchase Ritron products through our network of authorized reseller partners across the United States. Send us an email at sales_info@ritron.com or call us at 800.872.1872 and we'll connect you with a trusted partner.
How do I find more information?
Related Topics: Radio and Wireless Solutions for Schools, Two Way Radios, Radio and Wireless Solutions for Hospitals, Wireless Technology Solutions