For over forty years, we have kept people safe through our customizable and cost-efficient wireless communication equipment. From keeping construction workers safe thousands of feet above the ground to enabling communication during emergency situations, Ritron continues to find innovative solutions to meet the challenges of the day. Although the challenges of 2020 were unprecedented, our response of trying to find tools to keep your employees safe and your businesses efficient was no different. Here were some ways Ritron was able to keep people safe in 2020:
We reduced the need for close contact
In a variety of business settings, two-way radios reduce the need for direct face-to-face interactions between departments. By reducing close contact, you keep your workers safe while ensuring they are still communicating with each other and staying efficient!
We helped businesses pivot to Buy Online, Pick Up in Store (BOPIS)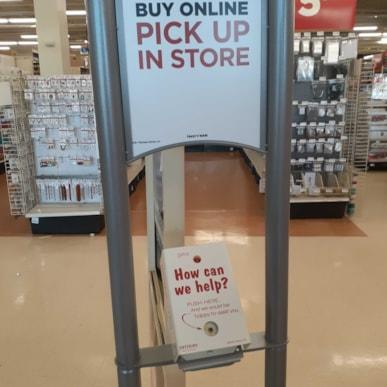 It's been a long time since we sold this legacy Quick Assist model, but we love seeing how people have repurposed our products during the pandemic, it's also a nice testimony to the longevity of our products. Stores who previously purchased the Quick Assist Wireless Shopper Call Button to boost the customer service experience—such as this Michael's Store in New Jersey—repurposed their Quick Assists to assist with 2020 customer service needs. Customers who bought products online pressed the button to let staff know that they had arrived to pick up their orders.
We helped you screen visitors and entry points
Our products can let you know when you have visitors. You can communicate with visitors before they even enter your facility to screen for symptoms and ensure they are following all safety protocols.
We facilitated communication on the frontlines
Ritron products can and have been used in clinics, assisted living facilities, nursing homes, and hospitals. Because our products don't require wiring or trenching, they can be quickly installed. Our products can assist in field hospitals, as well as emergency overflow areas. We know this is a difficult time for many hospitals, but we're here to help. Callboxes, two-way radios, and base stations can all be used by healthcare professionals when communicating safely - at a distance, is important.
The world has changed, but we help you adapt. To learn more about our products, contact us below.
Related Topics: Radio and Wireless Solutions for Retail