This won't be our usual Thanksgiving post.
Ritron has been innovating since 1977. You know us as the folks who keep you safe and connected through our cost-efficient wireless solutions. You know that we help you maximize productivity and enhance safety through wireless. You don't need us to tell you that.
You probably might also know that when Bill Rice started our company in 1977, he started like most companies—with an idea. What if the portable two-way radio solutions similar to those used by law enforcement could be made more affordable? You may be surprised to know it was a challenge to get others to understand this idea.
At the time, most portable two-way radios cost $800 each and were heavy as a brick! We overcame this challenge and with the help of our trusted dealers we continue to leverage radio technology to solve tough communication problems. Today, we design and manufacture over 12 unique categories of radio products, serving a diverse list of markets and applications and customers around the globe.
You don't need us to tell you, 2020 was a year of challenges. As a privately-held family company, it hurt seeing so many families suffering in 2020. But despite the challenges of this year, our staff has been incredibly resilient. In a week of gratitude, we wanted to share our resilience.
Our moment of pause
Because many of our products are used in essential industries, all Ritron operations remained open during the initial pandemic shutdown. Even in the face of a slowing economy, we decided to continue to build products and increase our stocking inventory levels. That decision provided new opportunities to better serve our dealers, resellers, and customers by providing faster and more consistent lead times on LMR product orders.
The resilience of our staff
The way we work has changed. Warehouse workers social distance. Our sales staff is no longer on the road. Instead, we have to communicate in new ways. No one signed up to work this way. But our staff pulled through! With the help of our dealers and resellers, we have created thousands of American jobs over forty years, and we're proud to say that we did not eliminate a single position during the pandemic. Our company is our family.
The support of customers like YOU
We know that 2020 has affected each of us in deep, profound, and different ways. Many of your businesses have faced challenges. You may have also faced personal loss. Nonetheless, you have continued to support Ritron. We're eternally grateful for your business this past year, and thank you for your resilience.
We hope you have a restful and safe Thanksgiving. We don't know what 2021 will bring, but whatever it turns out to be, we really hope 2021 doesn't quite suck as much as 2020. We do know this- whatever your wireless needs are, Ritron will be here for you.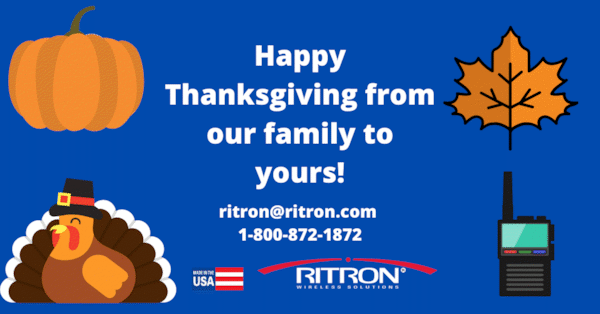 Related Topics: