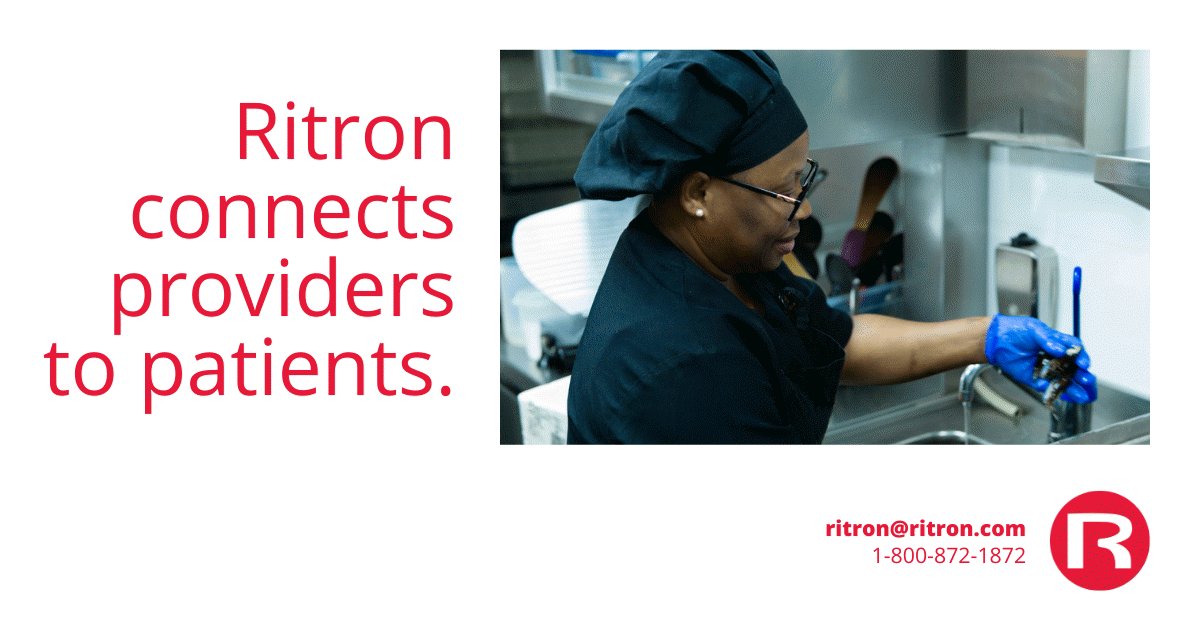 You don't have time to waste with miscommunications when lives are on the line. Even though Ritron products are used in many different industries, we're particularly proud of our adaptive and innovative work in the healthcare sector. Even before the pandemic, nurse call buttons, medicalerts, nurse buzzers, and caregiver pagers were used in medical facilities and nursing homes. Technology connects busy healthcare providers, maintains patient privacy, and reduces contamination in isolation wards or for immunocompromised patients. Hospitals use PAs and loudspeaker systems so that everyone in the building can respond to emergencies and codes. And as the first line of defense in the field, first responders like EMTS and first aid squads use walkie-talkies for safe communications. But this year, being able to communicate reliably at a distance took on additional importance during the pandemic.
Ritron has been on the front lines with healthcare heroes over the past fourteen months. Our products are used in applications from replacing fraying nurse pull cords in specialists' offices to keeping vaccination centers running at warp speed. But even when it's not a pandemic, medical providers must take care to reduce germs and maintain physical distance, especially when working with immunocompromised patients such as transplant recipients or cancer patients. Here are some innovative ways the healthcare industry used Ritron products this past year, and how Ritron can help healthcare providers serve their patients better.
#1 - Ritron connects patients to providers
Heather, a nurse at a suburban medical practice, was flummoxed by patient monitoring last year. In the specialty office that she works at, patients are required to wait for results in observation rooms where nurses check in on them periodically. Although the office had patient pull cords, they frayed years ago and were never replaced. The staff had periodically entered rooms to check on patients during their procedure recovery—a practice that was unsafe in the pandemic world.
As they began researching replacements, they worried about the cost and effort of rewiring the entire office. When their Grainger representative suggested that they mount a Ritron Wireless Quick Assist unit in each patient room and connect it with a JobCom Base Station at the central desk, Heather found her solution. No construction, trenching, or wiring was necessary. Since many patients delayed elective medical procedures during the pandemic, medical practices could not close for infrastructure adjustments after they reopened. With Ritron's products, Heather was able to keep her team and patients safe during recovery—without sacrificing affordability or efficiency. Patients can recover with additional privacy, all the while knowing that their healthcare providers were just a button away!
Ritron products were used not only to connect existing patients to providers but to help move us to a world where people rarely become COVID-19 patients themselves. In northern Michigan, a public health department purchased a quantity of walkie-talkies. They used the portable radios to speed up vaccine distribution and ensure the process ran smoothly, even at a distance.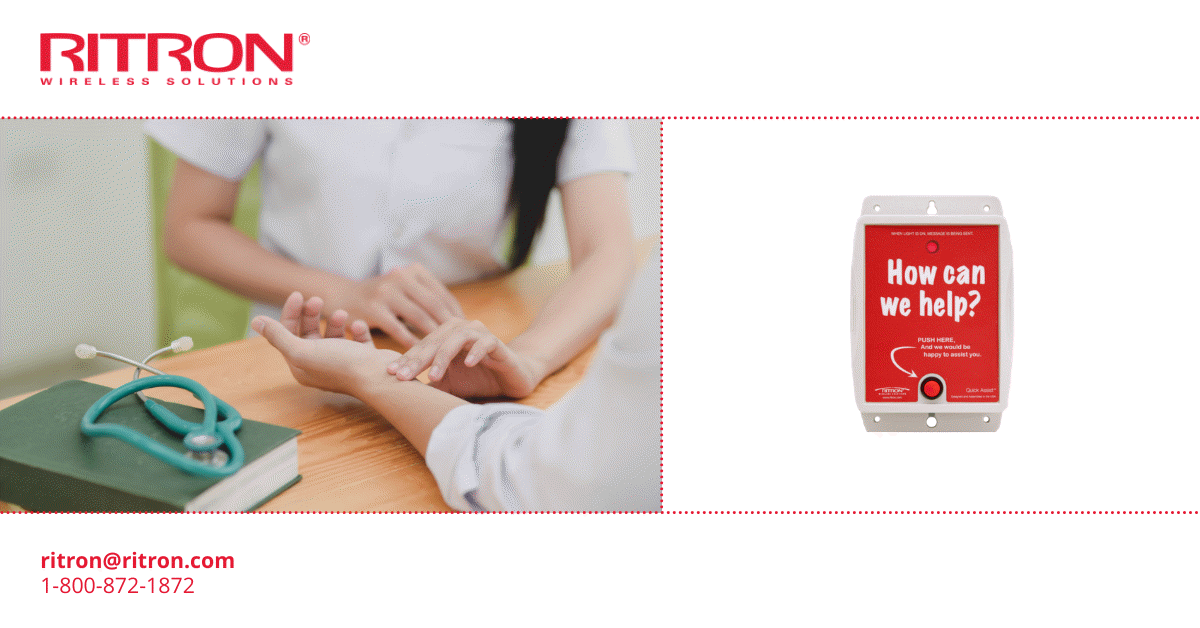 #2 - Radio makes help & access just a call away!
Over the past year, many facilities serving patients such as nursing homes, rehabilitation centers, hospitals, group homes, and assisted living communities took advantage of outdoor spaces. In some areas where vaccine intake is low and COVID-19 numbers are still high, indoor visitation may be discouraged. Families may also feel safer visiting vulnerable loved ones in the fresh air.
While outdoor spaces reduce germs, they can be a hazard for medically-frail patients and residents. If patients are with their families, staff may want to give them privacy—particularly if they are reuniting after a pandemic spent apart. Hospital parking garages also present their own set of safety and security hazards, and have since before the pandemic.
Ritron's callboxes—especially those with high-visibility cases like our signature green products—are all able to be installed outdoors. A few years ago, East Tennessee Children's Hospital of Knoxville installed callboxes in their multistory parking garage to increase safety and streamline security operations. With callboxes, security and medical staff are only a call away. Outdoor spaces at facilities are safer for patients of any ability or health level when callboxes are used.
#3 - Reduce the distance between patient floors
During the pandemic, floors of assisted livings and hospitals became their own "pods" with reduced staff contact between floors to reduce contamination. Post-pandemic, hospitals will want to reduce interaction between staff assigned to patients during cold and flu season to reduce germ transmission. But sometimes, emergencies require all hands on deck.
The Radio-to-Intercom Bridge empowers authorized staff to make announcements over the loudspeaker from their radios. Staff can quickly and efficiently make announcements, from wherever they are, and these announcements can be carried over the PA system or loudspeaker.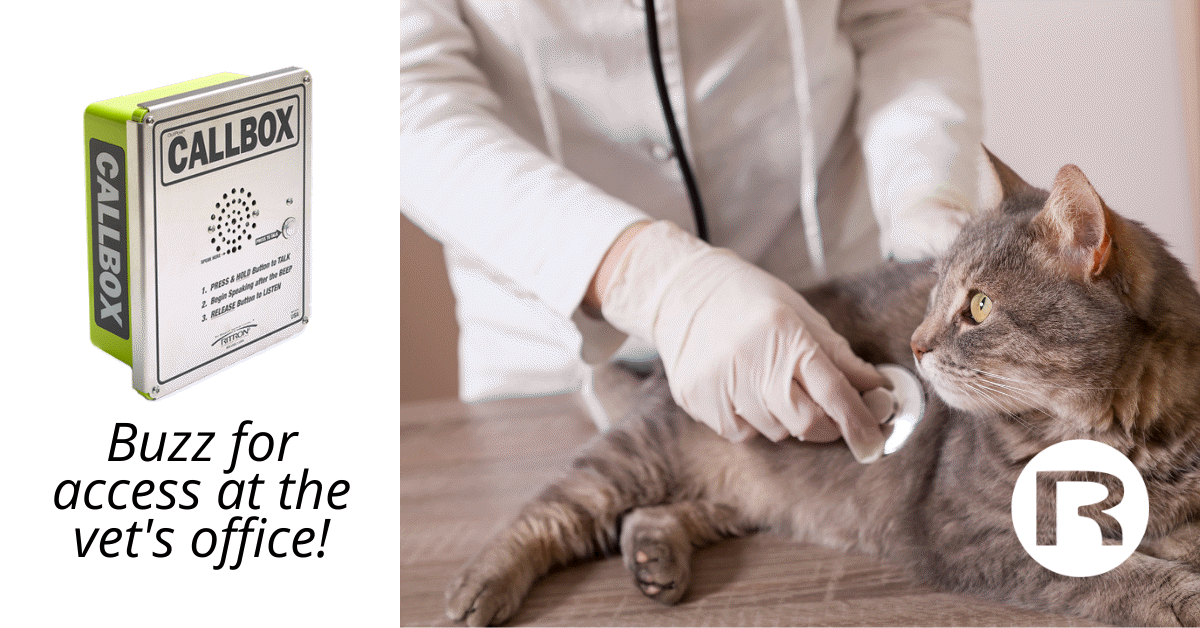 #4 - Not just for human patients
If you've taken a pet to the veterinarian in the past year, you probably experienced a wildly different experience than previous visits. Many vet's offices are now "contactless"—meaning that instead of waiting rooms, patients buzz in to let staff know they are there then wait in their cars. When we say Ritron products help healthcare providers communicate, we don't limit ourselves to human patients!
Callboxes and contactless communication can also be useful for larger vet's offices and kennels. Most importantly, radio communication can reduce stress on animals, even when the pandemic is over. For pets that are unable to sit in a veterinarian waiting room or be in a room with other animals also waiting, call buttons, buzzers and other wireless products improve the experience.
#5 - Empower everyone to communicate
Walkie-talkie or two-way radios can also assist non-emergency communications. Two-way radios allow staff to control exit and entry points and be in communication with each other about the location of high-risk patients.
While most young patients are comfortable using cellphones or iPads to communicate, older patients may struggle with complex technology. Installing the Ritron Quick-Assist button provides an easy way for patients to communicate quickly and effectively, no matter their level of dexterity or comfort with technology.
The future of radio in healthcare
This past year has been unbelievably difficult for healthcare providers. Ritron can help. After four decades of innovation in the communications industry, we're here to help our healthcare heroes overcome one of the biggest challenges of our lifetime.
Keeping distance will be normal during the cold and flu season as we are more aware of germs. As we return to a "new normal", we can embrace technology that made our lives possible and improved patients' experiences this past year. Talk to one of our sales professionals to learn more!
Related Topics: