As anybody who has driven by a public park during the first warm day in March knows, people are eager to get out into the great outdoors; particularly after a long, hard winter of social distancing! Last year, many outdoor sports activities including golf tournaments were canceled. Instead of heading off to the time-honored tradition of summer camp, children stayed closer to home in their bubbles and virtual classes. This summer—due to dropping case numbers and the rise of vaccines—staff at outdoor facilities are looking forward to welcoming back visitors, providing safe and fun experiences, and making up for lost revenue.
With products like long-range walkie-talkies and two-way radios for summer camps, loudspeaker PA systems for campgrounds, and other upgrades to your existing radios for outdoor activities, Ritron can help your organization stay safe and communicate efficiently as you reopen. If you manage a summer camp, public campground, state park, county park, zoo, outdoor historic site, golf course, theme park, obstacle course, or other outside activity, radio is a solution worth exploring.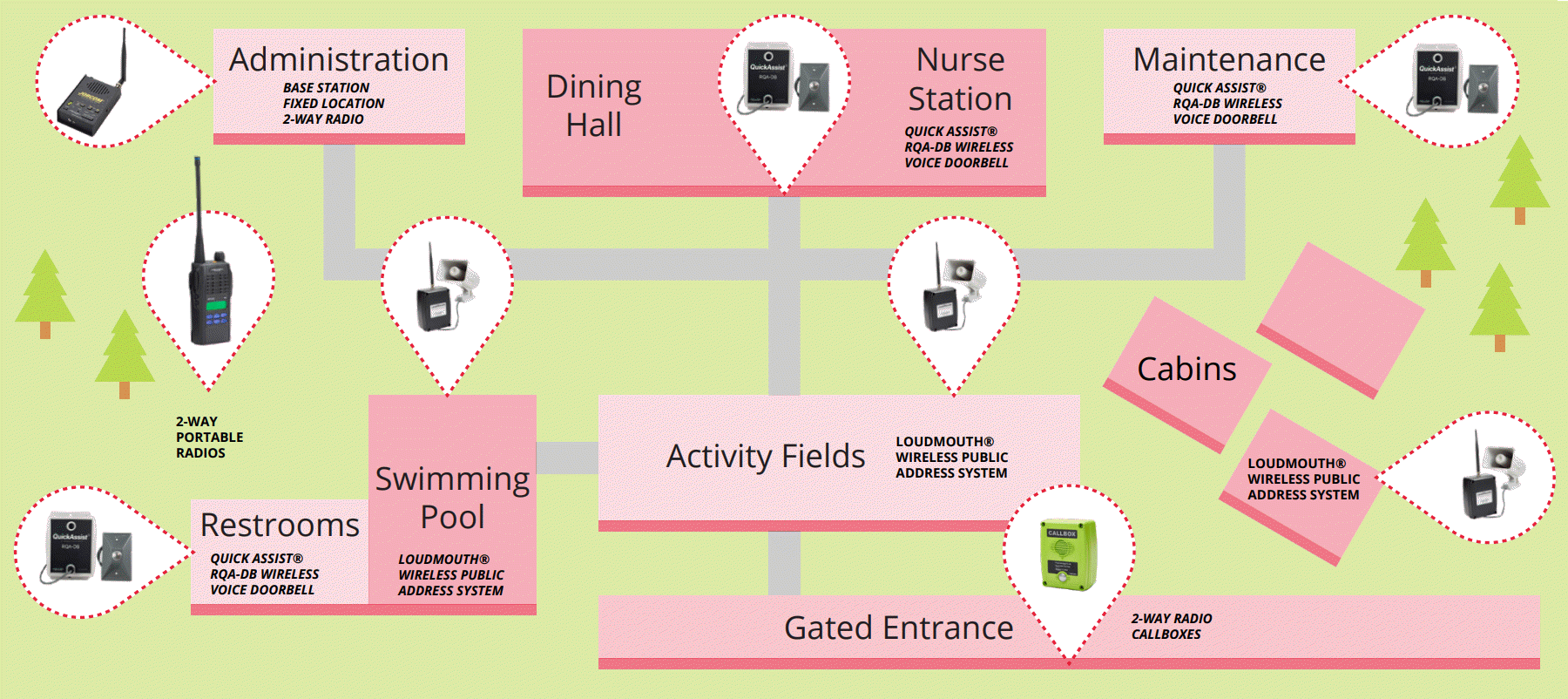 Keep children safe at camps and other outdoor activities this summer.
This summer, camps that have been shuttered for more than a year are cautiously approaching reopening. As camps invest in the tools they need to open safely, camp managers must consider radio as a needed communication tool. Since Ritron products can integrate with walkie-talkies or portables you already own, we can help you easily adjust in infrastructure upgrades that will make your outdoor activities safer.
When camps reopen, they will have to incorporate additional COVID-19 safety requirements. Wireless radio may assist in facilitating needed communication while minimizing face-to-face interactions if campers are in cohorts such as "pods" or "bubble." Summer camps often have poor cell phone service, so camps may already own two-way or portable radios. Staffers can make announcements over a PA system using their existing handheld radios with products such as the Radio-to-Intercom bridge. Campers and visitors can also communicate safely using callboxes at locations such as the nurse's station and front gate of the camp. More efficient communication between camp staff, visitors, and campers can keep kids safe.
You learn to expect the unexpected when you work in the great outdoors. The need for emergency mass notification at summer camps is not a matter of if, but when. Dangerous weather, unexpected animal incursions, unfortunate restroom malfunctions, adjusted schedules, and campus security instructions are all givens on almost any day of summer camp. An integral component for keeping children safe includes the ability for mass-notification and the clear communication of emergency instructions. With Ritron products, your camp staff will be able to make announcements even from a distance away—think miles, not feet. Using Ritron products, emergency communications can be broadcast across the entire campsite within seconds.
Communication improves service and safety at campgrounds, natural resource parks, and golf courses.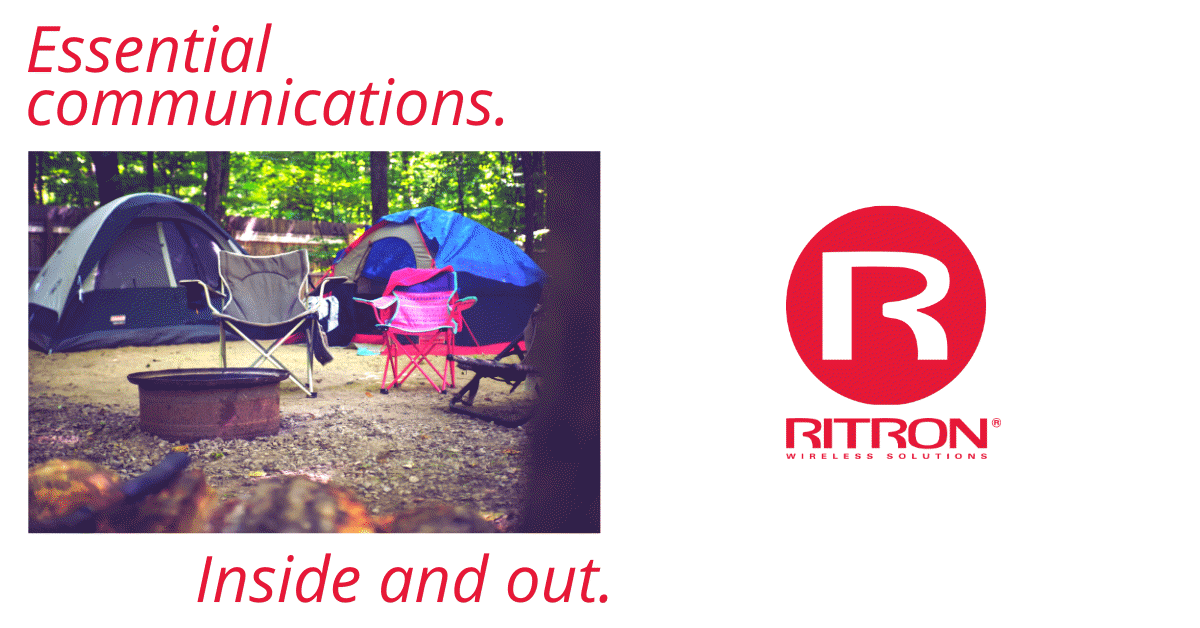 Other outdoor passive recreation facilities such as state and local natural resource parks, campgrounds, and golf courses are also preparing for increased visitation as the weather warms and the 2021 season opens. While international tourism dropped in 2020, state parks experienced record visitation from locals, and there's no reason to suggest 2021 will be any different. In a year of unusually high demand, park managers, campsite managers, and golf industry professionals must keep visitors safe and happy.
Staff can communicate with each other using walkie-talkies or portable two-way radios on hiking trails, state parks, and campgrounds. Camp staff doesn't often have contact information or phone numbers for visitors and cell phones may not get reception in remote areas. The Loudmouth Wireless Public Address system can help minimize risk by allowing for mass-notification, announcements, and crowd control in state parks and campgrounds.
Parks and campgrounds may have buildings that require staff-assisted access, such as shower facilities or visitor centers with restrictions due to COVID-19 spacing requirements. Callboxes and the Wireless Quick Assist Doorbell can help facilitate these interactions. Since facilities may be spread out over large areas, Ritron's repeaters can also be used to extend our already-impressive wireless range.
Keeping safe during high visitation while maintaining social distance has been a challenge for outdoor recreational facilities and natural resources parks. Staff must not only protect themselves and visitors—many of whom have minimal experience with outdoor activities, hiking or camping—but also protect the environment and animals. Radio is a tool that sites can use to help visitors enjoy recreation safely.
Wireless products can also be used at theme parks and other recreation experiences to improve service.
Outdoor recreation facilities have also used Ritron products to improve service, which can lead to increased revenue, which may be sorely needed during these difficult economic times. Ritron products can be used in active outdoor recreational activities, including golf courses, waterparks, theme parks, and other outdoor entertainment activities. In our long history of over forty years of innovation, we've found different ways for innovative applications of our products that make it easier for your staff to service your customers.
Ritron products have long been used in the golf industry for a variety of purposes. Repeaters and two-way radios have been used for irrigation control. The Quick Assist Call Button has been used at bag drops and locker rooms to summon staff, and wireless callboxes placed throughout the course can help out in an emergency, with pace of play, foodservice orders, and emergency notification. But there are even more innovative uses for callboxes which increase the quality of services exponentially. For example, Mirimichi Golf Course in Millington, Tennessee, increased revenue and customer satisfaction when they installed a callbox on the back nine for visitors to order food.
Waterparks, amusement parks, and other outdoor activities such as ropes courses, obstacle courses, and zoos also have logistical challenges that can be solved by radio. Callboxes allow for visitors to summon immediate emergency help wherever they are installed in the park. Public address systems can be used to alert visitors of weather, other hazards, and scheduled activities—such as the start of a parade or a show inside a theme park. For amusement and theme park operators, radio is an opportunity to better serve your visitors and lead to additional revenue.
Ritron can help you have fun and be safe as the weather turns warmer.
All signs indicate that the summer will be a joyous time of people coming together after over a year apart with coronavirus cases receding and people coming out of quarantine and lockdown. It's inevitable that the public will want to spend whatever time they can outside where they can be together safely. Anyone who operates an outdoor facility should be prepared for an influx of interest this summer. But more visitors doesn't mean sacrificing the quality of the experience or safety. Radio can be used to keep an increased number of visitors safe, assist in social distancing and help you serve your visitors better. Every outdoor recreation site is unique. Contact us to learn some more options about what might be the best solution for your needs!
Related Topics: