GateGuard® Combines Radio Communication with Access Control
package to be featured AT FenceTech show in Indianapolis March 13-16, 2019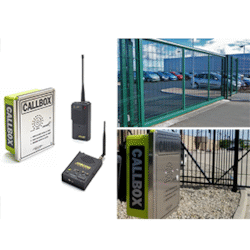 We're gearing up for an event held locally in Indianapolis, Indiana called FenceTech. We'll be featuring our GateGuard® system, a package of pre-programmed radios designed to provide 2-way voice communication and remote access control. The GateGuard package is perfect for the audience attending this show, as it brings together the fence and access control industry's leading manufacturers, distributors, contractors and specifiers under one roof.
Organized by the American Fence Association, FenceTech is held in Indianapolis March 13-16, 2019 at the Indiana Convention Center.
The GateGuard package includes: an XT radio callbox model 6 or 7, JMX portable radio and JBS desktop base radio and combines the benefits of two-way radio communication with remote access control in a pre-programmed package.
The packaged kit is designed specifically for use in commercial and industrial applications like treatment plants, factories, warehousing, schools, and healthcare facilities.
The major benefits installers and end users see include:
Cost - No trenching is needed, and no wires need to be run. This benefit is becoming more relevant as some areas are adopting more stringent rules and regulations around cutting through concrete. You'll avoid the cost (and paperwork!) that a traditional wired system requires when you use a wireless technology solution from Ritron.
Dependable - Industrial grade, made in the USA.
Long-Range* - Wireless 2-way communication is measured in miles, not feet.
Control Access - Remote gate activation via built in relay switch that is wired to the gate control.
*Up to one mile line-of-sight, no obstructions. This is a much greater distance than any garage door opener type product and differentiates this product from what many gate installers are familiar with.
How To Purchase
Purchase Ritron products through our network of authorized reseller partners across the United States. Send us an email at sales_info@ritron.com or call us at 800.872.1872 and we'll connect you with a trusted partner.
How do I find more information?
GateGuard Information and Specifications
Related Topics: Radio and Wireless Solutions for Hospitals, Two Way Radios, Transmitters, Wireless Technology Solutions, Call Boxes, Radio Base Stations, Access Control