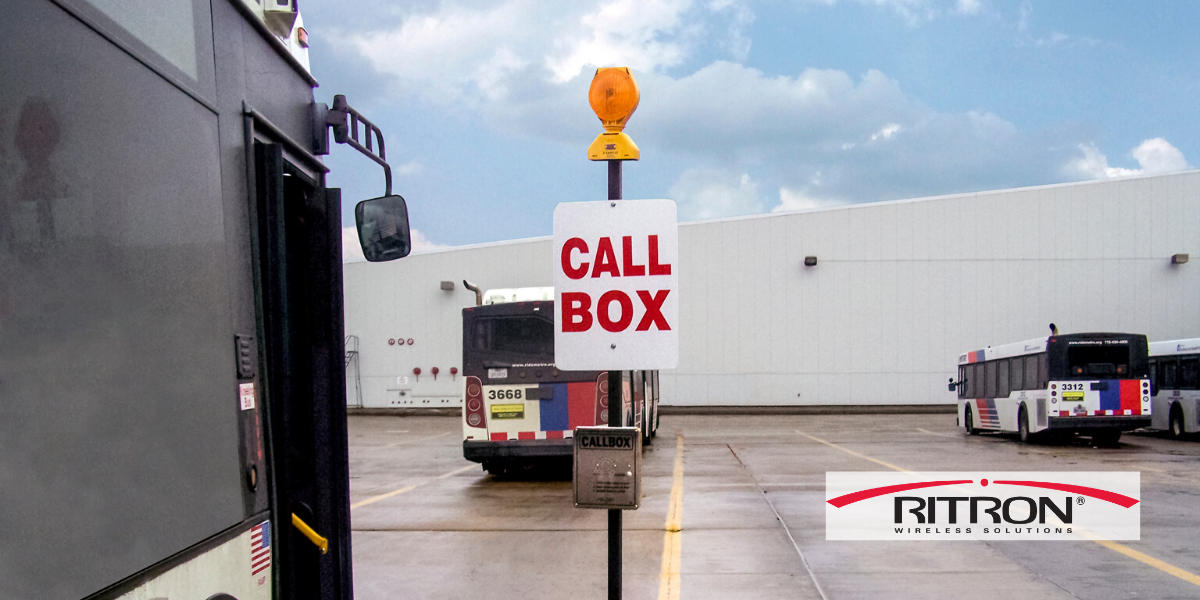 What Problems Does a Callbox Solve? Let's Count the Ways . . .
Ritron radio callboxes are known across multiple industries to provide solutions and address concerns regarding safety, security, response times, productivity, efficiency, customer satisfaction, and cost-effectiveness. Our callboxes are immensely useful as they fill the gaps within existing 2-way radio networks.
Warehouse emergency communication
Problem: In a 100,000 square foot warehouse facility, communication delays would be imminent in the event of an accident or emergency. Response time to accidents and speed of care provided to an injured worker would then be compromised.
Solution: Well marked, high-visibility green callboxes are now installed in key areas on the warehouse floor. Workers without radios may now contact personnel with radios when assistance is needed. See more: https://www.ritron.com/warehouse-employees-enjoy-new-level-of-safety-case-study
College Campus Dark Parking Lot
Problem: Students returning to campus late at night using an outlying parking lot had no way to communicate quickly with campus police in case of emergency.
Solution: A student run safety and security committee recommended the purchase of Ritron callboxes and the administration acted fast. Callboxes now installed at Franklin College save time over cell phone communication, and directly connect to campus security officers. See more: https://www.ritron.com/franklin-college-case-study
Propane Tank Fill
Problem: Requests for a propane fill results in poor experience for customers.
Solution: At Love's Travel Stops & Country Stores, those looking to top off their propane tank no longer leave their vehicle or RV to seek out an employee inside the Travel Stop to make their request. With a press of the wireless, battery-powered callbox button, the customer may now summon the employee, saving time and increasing customer satisfaction.
Marina Gas Pumps
Problem: Refueling at the marina was a slow process for boaters - typically they'd need to pull into the dock and search for a staff member to turn on the gas pumps.
Solution: A callbox mounted next to the fuel pumps at Leech Lake Marina now enables the boater to directly communicate with employees. This fast to implement, cost-effective solution proved to work very well during their busy peak summer season. This solution held down labor costs and improved customer service, while providing boaters the convenience of having quick access to dock employees. See more: https://www.ritron.com/leech-lake-marina-call-boxes
Metro bus Maintenance
Problem: Bus drivers working for Houston Metro were suffering from low morale when maintenance issues would arise during their pre-shift checklist, causing delays. In order to resolve the maintenance issue, their typical solution was a long walk to the maintenance garage or to use a cell phone to contact dispatch to find a technician. Both options took precious time.
Solution: Radio callboxes were installed in the bus parking terminal for drivers to use to contact maintenance technicians. This simple, inexpensive, efficient wireless communication system now keeps bus drivers and maintenance personnel connected. Read more: https://www.ritron.com/radio-callbox-helps-houston-metro-service-run-on-time
Ready to learn more? Go to www.ritron.com/callbox to review all the available tools to help promote and market Ritron Callboxes.
Ritron Callbox Information and Specifications:
Did You Know?
All Ritron products are field programmable. Find user manuals with complete instructions here, and for PC programmable products, find software information here.
How To Purchase
Purchase Ritron products through our network of authorized reseller partners across the United States. Send us an email at sales_info@ritron.com or call us at 800.872.1872 and we'll connect you with a trusted partner.
Related Topics: Call Boxes, Emergency Call Boxes, Emergency Call Boxes for Campus Security, Radio and Wireless Solutions for Colleges, Radio and Wireless Solutions for Golf Courses, Radio and Wireless Solutions for Transportation Industry, Radio and Wireless Solutions for Hospitals, Radio and Wireless Solutions for Construction, Wireless Technology Solutions