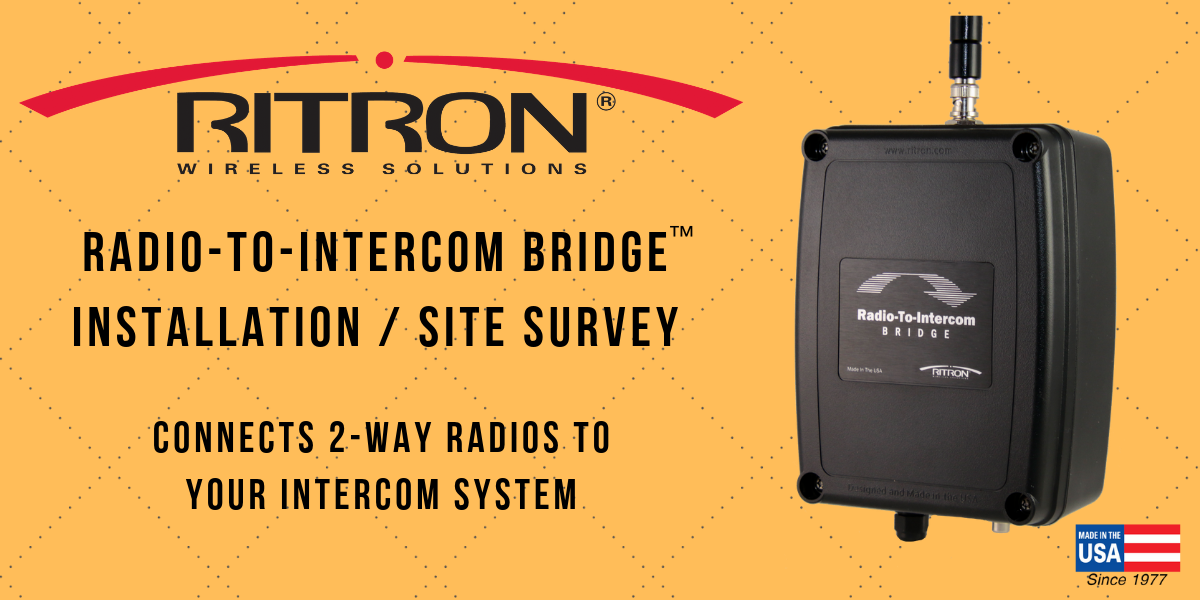 Radio-To-Intercom Bridge™ Installation and Radio Coverage Site Survey
To gain the most benefit from the Radio-To-Intercom Bridge receiver, Ritron recommends that you do a radio coverage site survey before it's permanently installed. Remember, proper installation is critical to the performance and the overall satisfaction of the system. After all, with the right planning, this receiver can receive a radio signal from up to a mile away and broadcast it over your wired PA system. That's right!
Tips on Planning the Installation
Enable a selective signalling format. This limits access to the receiver to only those radios that are specifically programmed to do so.
Use a dedicated channel. This separates normal radio traffic from the communication you want to go through the Radio-To-Intercom Bridge and over the PA system.
Determine if you'd like to use the Pre-announce tone feature. This feature, along with the audio level of the tone, can be programmed to be on or off and provides a tone to announce the incoming message.
Program the audio level control for your specific installation. The audio output level is set at 50% from the factory and adjustment may be made to control level 5-99%.
For best radio coverage, the receiver should be installed in a central location and as high up as possible.
Radio Coverage Site Survey
Requirements: Two people and two fully-charged portable radios.
The purpose of this exercise is to determine the optimal placement of the Radio-To-Intercom Bridge and thus the range you'll reliably count on to communicate through to your PA system.
Most likely you'll want to install the Radio-To-Intercom Bridge within close proximity of your wired PA system, so begin your site survey by locating person #1 at the PA system.
If close proximity is not possible, you'll need to ensure AC power is available to power the receiver and use shielded, twisted pair cable to route from the receiver to your PA system 600Ω input.
Note: Range can be extended with the use of an external antenna. The Ritron RAM-1545 magnet mount antenna has a 25 foot cable to allow for optimal antennal location.
Conducting the radio coverage site survey
Have person #1 take one portable radio to the location you would most likely install the antenna for the receiver to simulate its location. Position this person on a ladder to more accurately mimic the height you intend to mount the antenna, if needed. You may try several heights and/or locations before deciding upon the best location.
While person #1 remains stationary, person #2 will take the second radio and walk the site. While walking the site, person #2 must attempt to maintain radio contact periodically with person #1. This survey process will reveal whether or not radio coverage is acceptable if you install the antenna at the person #1 location. Generally speaking, coverage will be slightly better when the receiver and antenna are permanently installed.
If coverage is not adequate, person #1 will need to relocate to a new location and repeat the process until range and coverage are optimized.
Remember that it's typical that the higher the antenna the better but not always. Every site is different. Thick, reinforced concrete, steel walls and vertical fire panels in ceilings can work to block the penetration of radio signals, creating dead spots. You may want to gradually lower the height of the antenna and/or its location and repeat your site survey to see if coverage improves. It is best to change one variable at a time, that is, antenna height, location and then repeat the process.
Please see the user manual for complete details, and remember to consult with a qualified radio dealer through Ritron as well as a person with knowledge of your PA system.
Ritron Radio-To-Intercom Bridge™ Information and Specifications:
Did You Know?
All Ritron products are field programmable. Find user manuals with complete instructions here, and for PC programmable products, find software information here.
How To Purchase
Purchase Ritron products through our network of authorized reseller partners across the United States. Send us an email at sales_info@ritron.com or call us at 800.872.1872 and we'll connect you with a trusted partner.
How do I find more information?
Related Topics: Radio and Wireless Solutions for Schools, Two Way Radios, Radio and Wireless Solutions for Hospitals, Wireless Technology Solutions