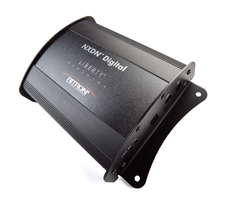 What is a Repeater?
At its core, a repeater extends the reach between two radios. A repeater works by receiving a signal from a transmitting radio, then rebroadcasting that signal to a receiving radio. Ritron has developed a repeater that fills a niche positioned below the expensive repeaters that are likely overkill for many simple, but common coverage problems experienced in a typical radio system. For example, at Ritron we have adopted a turn-key approach by designing our own built-in duplexer for the system to operate as a receiver and transmitter simultaneously (full-duplex). Other brands require a separate, externally-located duplexer which makes installation cumbersome.
How would I know if I need a Repeater?
You might be experiencing signal loss based on distance. Prior to the Ritron repeater solution, a customer had the choice to either live with the marginal radio coverage of their radio system, or splurge for an expensive overkill repeater solution.
How do I implement a Repeater in my radio network?
A repeater is added in a strategic, static location based on typical use of your mobile radios in your particular application. The coverage area is determined by output power and the placement of the antenna. Typically, Ritron repeaters are designed to cover a single campus, a single building, multiple buildings, a warehouse, or a school and the surrounding grounds, for example. A more complex situation may require more than one repeater using separate frequencies.
Do I need an antenna with a Repeater?
Yes. Ritron has found that an antenna mounted in the 10-25 foot range (depending on location) to be most effective. This height generally avoids the interference found when mounting in the 30-50 foot range. We have designed our repeaters to perform in the 2 Watt, 5 Watt, or 2-10 Watt adjustable range featuring excellent receiver and transmitter performance for the price.
How do I find more information?
Related Topics: Repeaters, Radio and Wireless Solutions for Retail, Radio and Wireless Solutions for Construction, Radio and Wireless Solutions for Transportation Industry