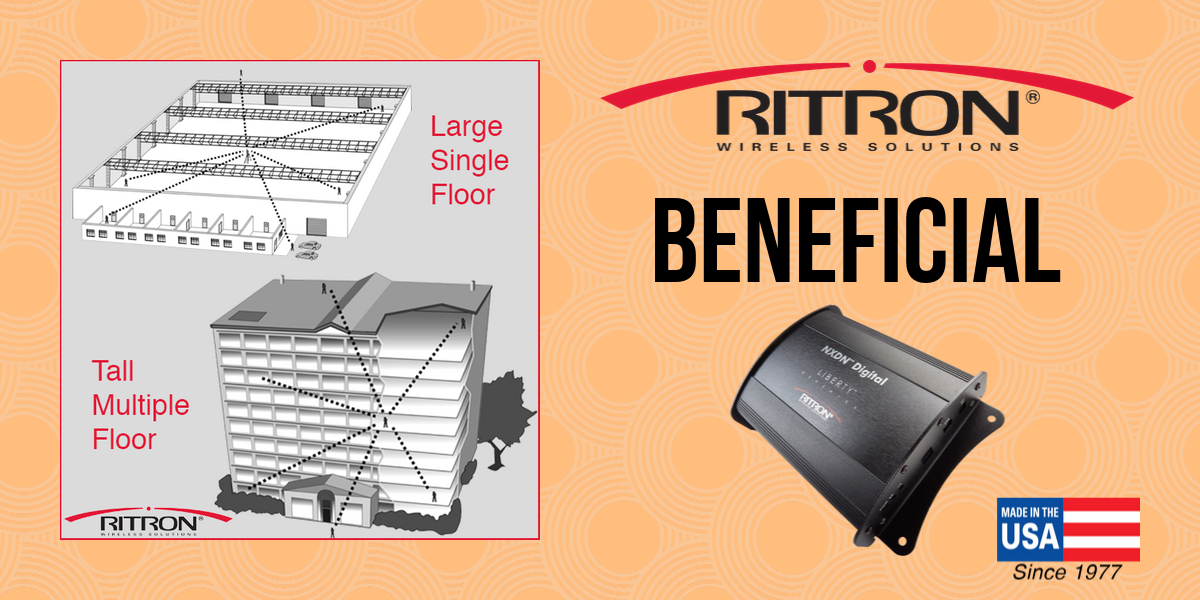 Ritron Repeaters Beneficial in Many Applications
Learn how the line of Ritron Repeaters solve real communication problems in the examples below. A Ritron repeater is a full-duplex transceiver (the radio transmits and receives simultaneously). In these cases, a repeater proved to be a critical component to help ensure reliable, consistent communication across the radio network. Do you see any use cases that may be beneficial to your business?
The staff at The Palladium at the Center for the Performing Arts, a 151,000 square foot concert hall in Carmel, Indiana, had safety concerns when radio communications degraded. Staff using their radios in the basement level mechanical rooms could not be heard by the administrative staff in other parts of the building. That's when they decided a Ritron repeater with an omni-directional high-gain antenna installed high in the dome of the building was the solution. Now, staff in the concert hall building (even in the basement) have consistent, reliable communication with others around the campus as well as to the staff in the administrative offices across the street.
Medco, (now Express Scripts) built a 340,000 square foot distribution facility and called Ritron to help with a site survey to determine what type of radio equipment would be needed to cover the entire facility. Described as "a shower of sun rays," the resulting repeater setup meets and exceeds the radio communications needs of the organization.
Summer camps are using Ritron repeaters to extend the range of their radio communications. In combination with a LoudMouth wireless public address speaker, announcements may be made to various sections of the camp. This requires no trenching, and no wires.
A Ritron dealer partner in the Long Island, New York area (AC RadioCom) is supplying the high rise construction industry with repeaters. This cost-effective solution helps to cover the construction site communications needs from top to bottom.
A critical component in all of the cases above is the proper type and placement of the antenna. Contact your account manager at Ritron and consider a consultation with our engineering staff to ensure any complex situations are addressed and your customer needs are met. What additional use cases have you experienced?
Learn More and Find Technical Specifications:
Did You Know?
Find user manuals with complete instructions here, and for PC programmable products, find software information here.
How To Purchase
Purchase Ritron products through our network of authorized reseller partners across the United States. Send us an email at sales_info@ritron.com or call us at 800.872.1872 and we'll connect you with a trusted partner.
How do I find more information?
Related Topics: Repeaters, Transmitters, Transceivers, Wireless Technology Solutions, Construction Two Way Radios