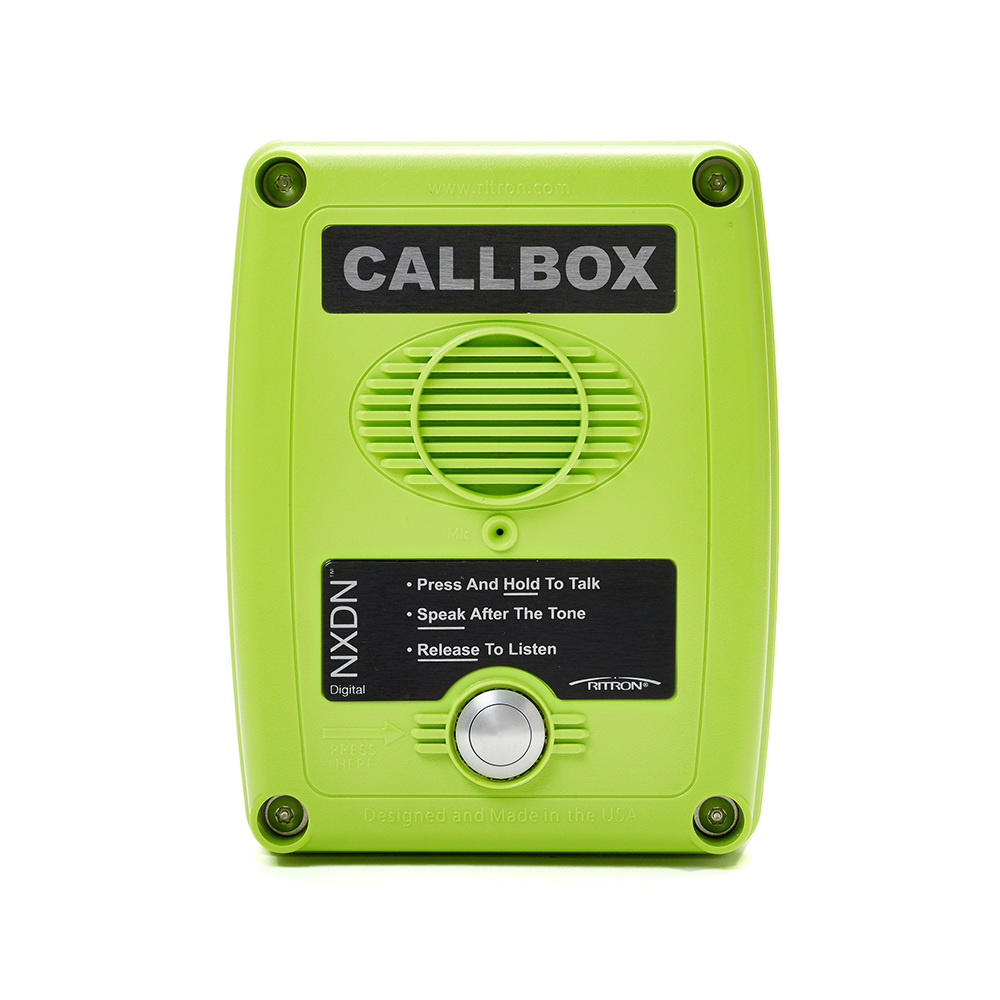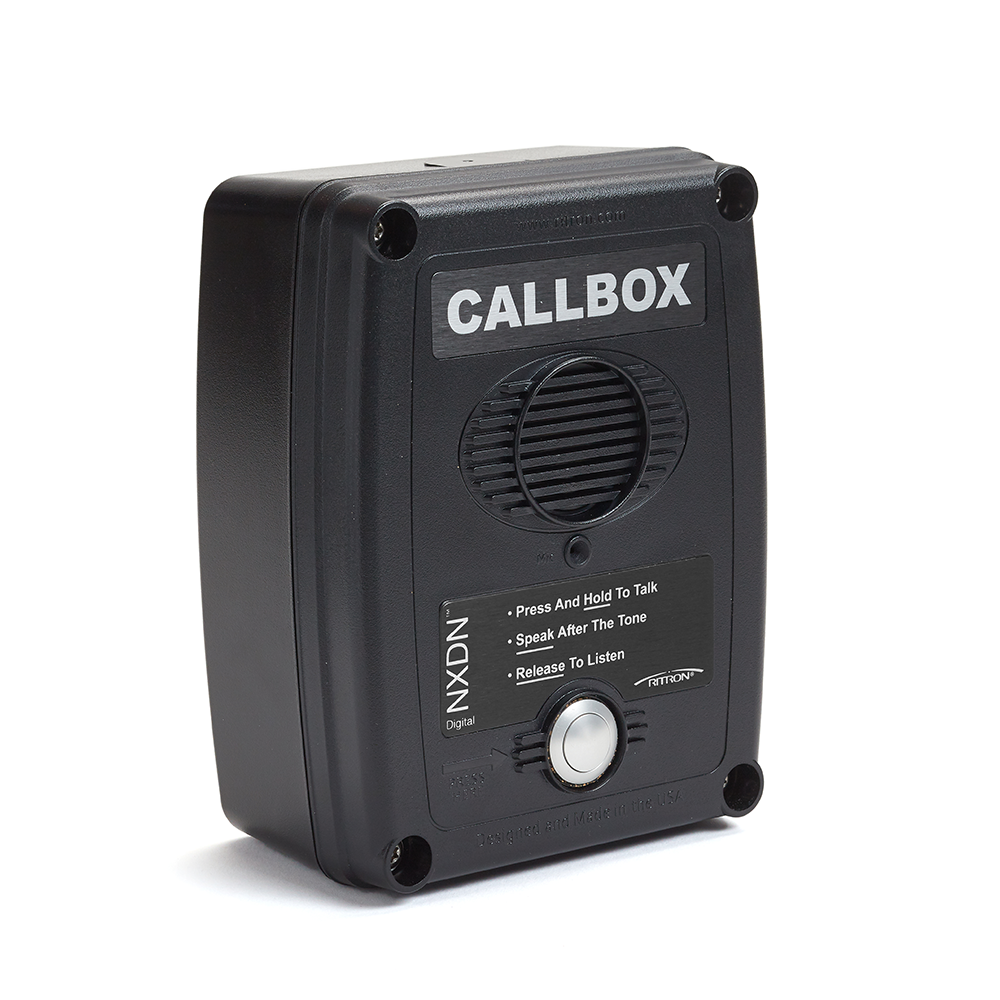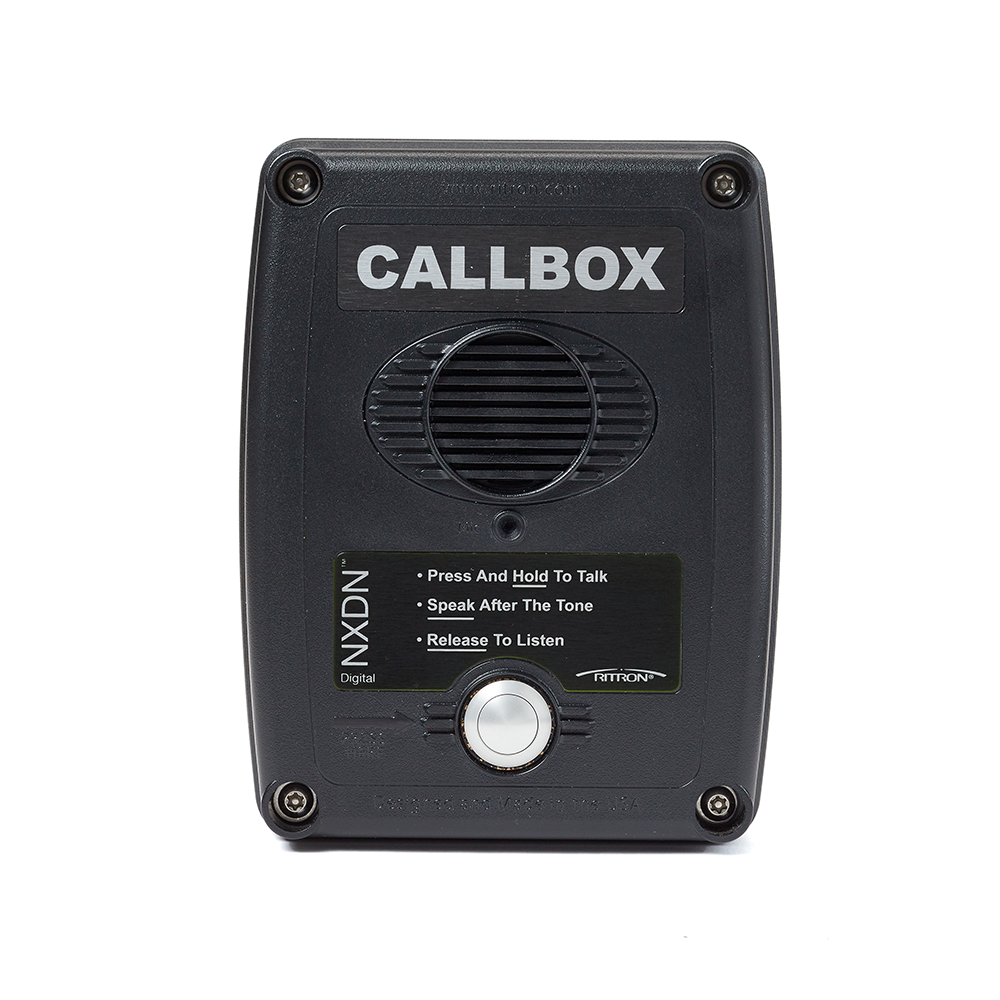 2-Way Radio Callboxes
NXDN Digital and Analog
Put FDMA NXDN™ digital or analog wireless communication right where you need it! Position the compact and durable XD Series 2-way radio callbox virtually anywhere to maximize manpower efficiency, improve safety and service response times. Deploys easily - no wires, no trenching, no construction required. Can be used stand-alone using alkaline batteries or can be powered using external AC adapter.

The XD Series callbox provides crisp, clear, long range NXDN digital or analog voice communication and allows staff and visitors to communicate with your radio-equipped personnel from points near and far, be it the plant floor, a maintenance garage, the gated entrance, a delivery dock or the 9th Tee. Accomplish more with your 2-way radio system!
Construction Hoist Impact Story
Features

Wireless, 2-Way, Push-To-Talk, conventional NXDN Digital or Narrowband Analog Technology
Available in license-required VHF 150-174MHz and UHF, 450-470MHz frequency band
No Trenching or Construction Costs To Install
Business band frequencies, long range performance - up to1 mile* *line-of-sight.
Works with any VHF or UHF NXDN digital or analog business band 2-way radio
Durable, gasket-sealed, high-impact molded, polycarbonate enclosure
Tamper and Vandal-Resistant, Internal Antenna, Long-Life, Machined Aluminum PTT Button
Battery* Powered For Stand-Alone Operation or External Power for Always-On Operation. *For optimal performance in battery only applications, Auto Turn-Off should be enabled.
Adjustable Volume, High-Audio Output, Provides Easy To Hear Audio In High Noise Areas
User Adjustable Settings and PC Programmable Allows Easy, In-The-Field Programming. PC programmable
Built-In Relay control allows long-range, remote control of gates or doors or use with optional flashing strobe light.
Standard Flange Mount Hole Pattern Easy Installation. Optional Mounting Brackets Available
Available In Different Enclosure Colors: High Visibility Green and Coal Black
Call Ritron regarding custom colors for volume applications
Designed and Made in the USA

Specs

Models
Description – Analog/NXDN Digital, Conventional
Tx Pwr
Using 3 D-Cells
TX Pwr Using
Ext 12VDC Pwr
Includes Built-In Relay,Stored-Voice Msg,Sensor Switch Inputs
RQX-117NX
VHF, 150-160 MHZ, Part 90 Freqs, Hi-Viz Green Housing
700mW
2 Watts
yes
RQX-117NX-BLK
VHF, 150-160 MHZ, Part 90 Freqs, Black Housing
700mW
2 Watts
yes
RQX-417NX
UHF, 450-470 MHZ, Part 90 Freqs, Hi-Viz Green Housing
700mW
2 Watts
yes
RQX-417NX-BLK
UHF, 450-470 MHZ, Part 90 Freqs, Black Housing
700mW
2 Watts
yes

RF Channels: 1 Channel NXDN Digital (12.5 or 6.25KHz) or Analog (12.5KHz)
Signaling-Analog Mode: CTCSS/DCS Encode//Decode Codes, DTMF and Selcall Encode/Decode, 2 Tone Decode
Signaling-NXDN Digital Mode: 64 Radio Access Numbers (RAN), Subscriber Unit ID (SUID), Destination ID (Individual & Group Selective Call, All-Call)
Dimensions: 7" H x 5" W x 3" D
Weight: 2.75 lbs
Enclosure Material: Gasket Sealed, High-Impact Polycarbonate
Colors: Black or High-Viz Green
Environmental: Splash resistant, shock and vibration per Ritron test
Operating Temperature: -20°C to +55°C (-4°F to 131°F) Battery rating. At 0°C the capacity is < 50% rated) Talk range will decrease at low temperatures when operating on alkaline batteries.
Programming: Field programming capability of limited parameters. Full programming capability using internal USB Connector used for full PC Programming.
Built-in Remote Control Relay: Can be used to remotely control gates, doors or strobe light. (7 Series) Relay switch is controlled when callbox receives the pre-programmed selective signaling command code.

SPDT, 3A, 125VAC/30VDC – Normally Open or Normally Closed (NO Default). Modes of Operation: Momentary or Toggle, On/Off.
Aux Sensor Monitoring Input : Optional sensors used to detect motion, gate movement, vandal/tamper or vehicle presence can be connected to the callbox using the sensor input.
Sensor input responds to an Open or Closed switch. Callbox will send either an alarm tone or a recordable voice message when optional switch/sensor detects a change.
Can also be programmed to automatically turn callbox ON and transmits recordable voice message or alarm tone to radios monitoring callbox activity.

Adjustable Speaker Volume: Adjustable 20% to 100%
Automatic Turn-Off Feature: Conserves batteries. Selectable turn-off times will automatically turn callbox off after a set period of inactivity on the radio channel. Auto Turn-OFF feature must be enabled when using battery only power.
Listen-In Feature: Callbox can be selectively paged to allow remote monitoring of audio in the vicinity of the callbox.
Busy Channel TX Inhibit: Prevents Callbox from transmitting if someone else is using the radio channel.
Recordable Voice Messages: Greeting Message/Send Call Alert Message/Sensor ON/Sensor OFF/ Low Battery Message/Send Power Fail Message/Auto "Re-Send" - Selectable 0-5 times.
Battery Life: 3 D-Cell Alkaline Batteries: Number of Transmissions: Approximately 6,000 based on a duty cycle of: 3 Seconds Receive, 3 Seconds Transmit, 10 Seconds Standby

Accessories

RAM-1545: Dual-Band VHF/UHF magnet-mount antenna w/ 20ft. RG-58 coax/BNC (requires opt. cable #60201125)
R-STROBE: Blue Strobe Light, 120 VAC, 1 Amp
RPS-EXPO: AC Adapter only, 110VAC - 12VDC, external power supply for the XD Series Callbox.
RSS-100: Solar Power System - Includes: RK-RQXMB: Mounting Brackets for XD Series Callbox Enclosure
RQX-PCPK-1: PC Programming Kit
RQX-PCPS-1: PC Programming Software - CD Only
RK-RQXMB: Mounting Brackets for XD Series Callbox Enclosure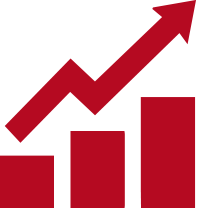 See How We Helped Improve School Safety
by installing a radio call box system for authorized access to campus facilities
---
Related Products
---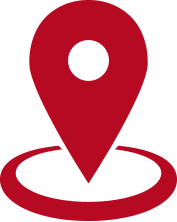 Find A Reseller Near You
Interested in how you can help your company improve its communication, productivity, security, or bottom line with Ritron wireless products?
Need help? Fill out this form and a Ritron expert will be in touch.