Radio-to-Intercom Bridge™
Connect 2-Way Radios To PA System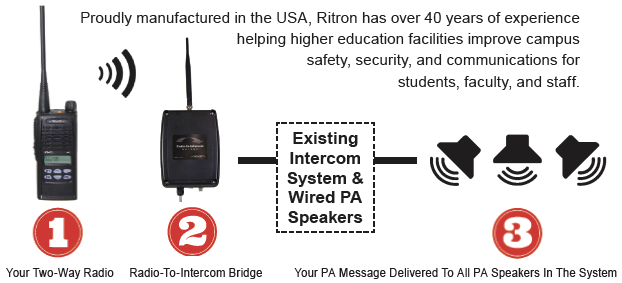 We help education facility managers improve campus safety, security, and communications for students, faculty, and staff.
Is communication over your existing Intercom / PA System limited by a single point of access?
Are there gaps in coverage within your existing emergency communication system?
The Radio-To-Intercom Bridge receiver solves these problems.
Connect the receiver to your existing PA system.
Use your two-way radios to originate messages and broadcast over your existing campus wide public address speaker system.
Fill gaps in coverage with mass communication across your entire facility.
Read How The Radio-To-Intercom Bridge is Being Used In Schools
Learn More:
Videos:
Top Problem-Solving Benefits - Radio-To-Intercom™ Bridge
School Superintendent Testimonial
Product Overview: Radio-To-Intercom Bridge
Integration Guidelines: Radio-To-Intercom Bridge
Various Beneficial Applications: Radio-To-Intercom Bridge
View the Setup/Programming Video RIB-600Analog
Demonstrating the Radio-To-Intercom Bridge to Your Customers