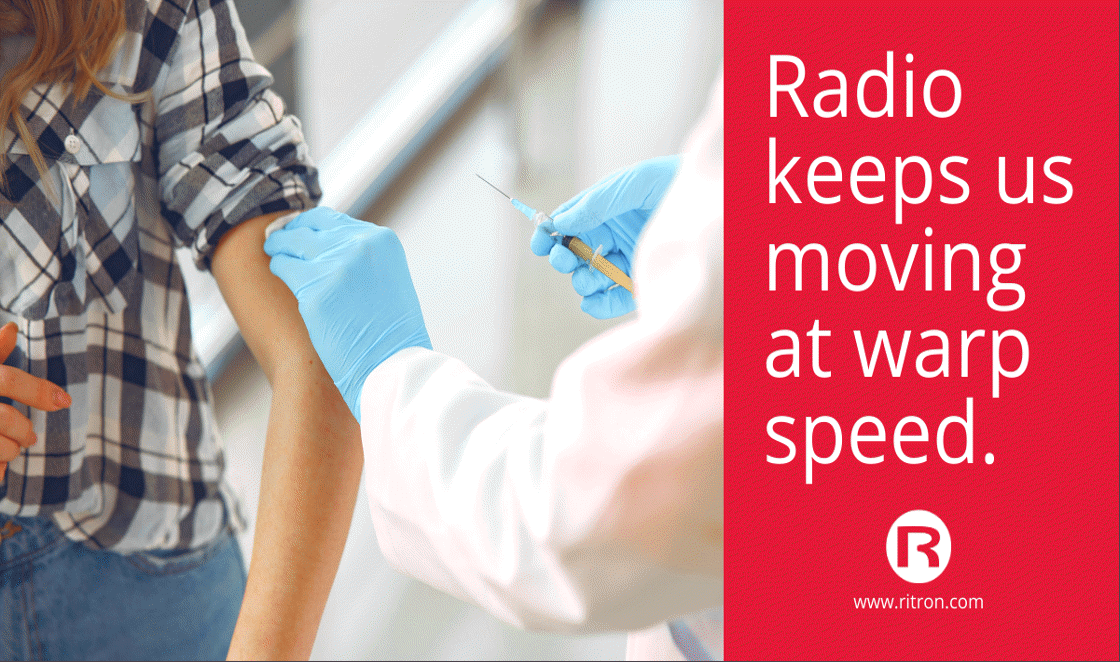 Millions of Americans, eager to receive their first Moderna or Pfizer vaccine shot, are showing up on their designated day when their priority group is called. As they drive to the popup medical clinic or mass vaccination site, they may be directed where to go by a volunteer on a loudspeaker. Once parked, they wait in a socially-distanced line in front of a check-in desk. Once their ID is confirmed, they may wait in another line in front of vaccination stations, set apart for social distancing and privacy concerns. Crowd control staff communicates with staff near the stations, using two-way radios. Once vaccinated, staff members usher patients into a waiting area where they are observed for fifteen minutes for an allergic reaction. If an emergency does occur, staff quickly summons backup. All of this has to occur at a safe social distance.
As any event management professional knows, communication is central to any large-scale event. Logistics professionals and event managers all the way from the organizer of the Boston Marathon to drive-through managers at Chick-fil-A are being called up to serve. Ritron can help, providing license-free and licensed business band radio products that work at warp speed.
In mass vaccination logistics coordination, communication keeps us at warp speed.
As vaccine centers are opening throughout the United States, the authorities in charge—state and local public health offices, contracted medical companies, and even police and military units—are learning that logistics are more than just managing the supply of vaccine or website registration. In a Wall Street Journal article, Major General José Reyes spoke about logistical challenges the Puerto Rican national guard encountered. "We learned we needed to work on the parking lot, how to control the traffic," said General Reyes.
Across the country and the world, frontline responders directly involved in the vaccination effort are learning what techniques and tools they need to effectively run clinics. Unlike events in the past, vaccination clinics must maintain social distance, which hampers communication. And as any event manager knows, communication is an essential component of logistics management. Since the start of the pandemic, Ritron has helped businesses adapt to the changing way the world communicates.
Ritron products can be easily installed at a pop-up clinic with no digging or wiring, and easy installation will save lives.
With lives on the line, you don't have time to waste. Over the past year, scientists around the world have stepped up with an incredible feat—creating safe and effective vaccines for COVID-19.
Limited supply hampered delivery in the early stages of vaccine distribution. But with new shipments arriving from Moderna and Pfizer, and a new vaccine from Johnson & Johnson on the horizon, we're approaching a turning point. Once vaccine supply starts ramping up, organizations don't want delivery hindered by communications issues in supply chains or pop-up vaccination clinics. Pop-up locations can use reliable business band 2-way radios to keep the process of COVID vaccine delivery running at warp speed.
Ritron products are easy to install. Our radios can be installed quickly as a stand-alone system or tied into an existing radio network without the need to run wires or conduits. Instead of waiting weeks to make your clinic run smoothly, Ritron products can be delivered and installed in days. This is the most important logistics challenge of our lives, one that we need a solution to immediately. Ritron can help.
What are the communication products that can help with event management and vaccine distribution logistics?
Ritron's Wireless Intercom/Base Stations are fixed-location, AC power-operated products that can communicate with two-way radios. They are compatible with any business band radio system your clinic or security company may previously own. Using an intercom base station, staff working a check-in center can communicate with staff on the floor of the clinic to ensure supply and smooth operations.
Vaccine clinics must be spread-out to ensure social distancing, and an emergency can happen anywhere in the clinic. The battery-powered two-way callboxes can be placed at strategic locations such as the post-vaccine waiting area can keep the public safe and reassured that help is only a button away if needed!
Staff may want to convey important messages but remain at a safe social distance. Staff can make announcements from a fixed location or, using the Loudmouth Wireless PA, from their two-way radio devices. The ability to share reminders such as waiting fifteen minutes, maintaining social distance, and having your ID ready for check-in can streamline the process.
In addition to intercom systems that pair with two-way radios that you already own, Ritron also makes its own line of two-way radios and accessories.
Leaders across the world have likened the vaccine effort to a "wartime effort", and the military has been called on to help speed up the process. With the death toll of COVID-19 exceeding all recent wars, there's no greater effort to be a part of. Whether you make vaccines or make radios, everyone has to step up to do our part. With needles, tents, vaccines, and radio to speed communications, Ritron can help save lives and return us to normal.
Interested in partnering with us around your local vaccine effort? Get in touch!