Construction Sites: Ideal Location For Ritron Radio Callboxes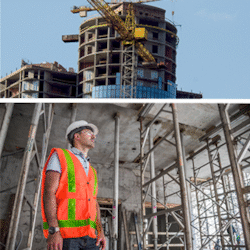 Construction sites are ideal locations for Ritron fixed location, battery-powered, radio callboxes.
Why? Because an existing network of radios is already in use, and adding a callbox is a simple and effective way to enhance and enable communication. Remember, one of the main benefits of adding a callbox is to enable those without a radio to contact those with a radio.
Here's how:
Add a callbox to gated entry areas. This improves safety and keeps areas secure to only authorized personnel.
Add a callbox to construction trailers. This allows visitors to check in and summon the construction supervisor.
Add a callbox to muster areas. From shift changes to emergency situations, a callbox at a gathering or muster station proves to be an essential safety tool for the crew on site.
Add a callbox as a wireless intercom system for building-to-Manlift or hoist elevator communication. This is well documented in our customer impact story here, and enables moving workers and equipment effectively in a multi-floor construction site.
Regardless of the specific application, the ability to communicate is of paramount importance for the health, safety, and productivity of workers at the construction site.
Did You Know?
All Ritron products are field programmable. Find user manuals with complete instructions here, and for PC programmable products, find software information here.
How To Purchase
Purchase Ritron products through our network of authorized reseller partners across the United States. Send us an email at sales_info@ritron.com or call us at 800.872.1872 and we'll connect you with a trusted partner.
How do I find more information?
Callboxes Information and Specifications
Related Topics: Emergency Call Boxes for Campus Security, Emergency Call Boxes, Call Boxes, Wireless Technology Solutions