DMR Digital Callbox - Designed for Versatility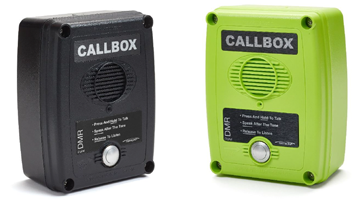 During my journey to learn about the Ritron DMR Digital Callbox, the word "versatile" was mentioned again and again. Some of the features we've designed right in to the callbox that allow our customers to find resourceful ways to use the callbox include:
Power Options: When powered via batteries, the location chosen to mount the callbox is limited only by your creativity and application requirements. You'll have no need to find a power source, and the D-cell batteries operate the radio for up to one year or 8,000 three second transmissions.
Mounting Options: The DMR Digital Callbox may be direct mounted to virtually any surface using the mounting brackets and brass inserts provided. With optional brackets, additional mounting options are available, including side mount and pedestal or post mount.

Rough and Tough: The callbox was designed for outdoor, rugged environments. The case is made from a custom formulated UV stabilized polycarbonate plastic. Read more about the impact resistant qualities of this poly enclosure here. The fasteners and mounting brackets are made from corrosion resistant stainless steel.
Resistant to Elements: The enclosure is designed with a gland gasket, providing a high level of water resistance. The mylar speaker and custom designed microphone seal both are water resistant.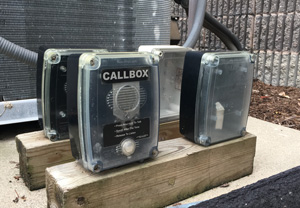 Long Term Outdoor Exposure: As a designer and manufacturer, we are continually examining long-term exposure to sun, rain, wind, heat, and cold. We also test the effects of the elements on a variety of plastics used in our cases.
Custom Installations: Multiple case entry locations are designed in for running cables into the unit from the bottom or the rear. This accommodates whatever is required by the installation.
Highly Visible: Customers choosing the High Viz Green benefit from the research conducted that concluded the human eye finds the lime shade easiest to see in low lighting.
Internal Relay: We have applications where the relay output controls an external strobe light, operates a gate, or operates a magnetic lock. This feature can be used for whatever unique control operation the installation would require.
Sensor Input: When an external sensor is tied to the callbox, the sensor input can send a verbal condition based on that sensor being triggered. For example, the sensor can be triggered and a prerecorded message sent to the receiving radios when a person's presence is detected by a pressure mat at the callbox.
Internal Antenna: The custom designed internal antenna maintains the performance of an external antenna without the risk of damage by vandals. If the installation requires it, flexibility remains in the design to allow for an external antenna.
Have you found any of these features to be particularly useful? How so? Let us know by emailing ritron@ritron.com.
How do I find more information?
Learn More and Find Technical Specifications:
Related Topics: Transmitters, Wireless Technology Solutions, Construction Two Way Radios, Call Boxes