Versatile and Cost Effective Callboxes from Ritron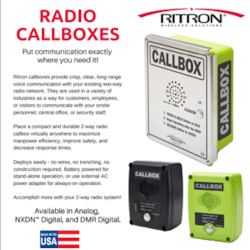 Ritron callboxes provide crisp, clear, long range voice communication with your existing two-way radio network. They are used in a variety of industries as a way for customers, employees, or visitors to communicate with your onsite personnel, central office, or security staff.
Better Communication
Placing a callbox as an additional point of communication in your 2-way radio network allows those without a radio to communicate to those with a radio. This allows your entire team to be better.
Cost Effective
Since you have already invested in a radio system, adding a callbox simply leverages that existing investment. You won't be incurring the cost of trenching as you would with a wired system, enabling a pain-free installation. You may also choose from a wide variety of installation locations in your physical plant.
Not Only Cost Effective . . . Effective!
In addition to the cost effective benefits, equipping your business with callboxes allows your employees to be most effective. Whether it's moving equipment from one corner of the factory floor to the other, or notifying radio-equipped staff there is a delivery at the dock, thoughtfully placed callboxes increase communication and decrease repetitive and wasteful tasks, resulting in an effective and efficient environment.
Callbox Models
Did You Know?
All Ritron products are field programmable. Find user manuals with complete instructions here, and for PC programmable products, find software information here.
How To Purchase
Purchase Ritron products through our network of authorized reseller partners across the United States. Send us an email at sales_info@ritron.com or call us at 800.872.1872 and we'll connect you with a trusted partner.
How do I find more information?
Callboxes Information and Specifications
Related Topics: Emergency Call Boxes for Campus Security, Emergency Call Boxes, Call Boxes, Wireless Technology Solutions, Radio and Wireless Solutions for Construction, Radio and Wireless Solutions for Retail, Radio and Wireless Solutions for Colleges, Radio and Wireless Solutions for Golf Courses, Radio and Wireless Solutions for Hospitals